Come join the volunteer Noroton Fire Department as its members kick off their annual fundraiser Thursday, June 22 with a night of Bingo, then on Saturday, June 24, when the department hosts its annual block Party.
For bingo night, ticket sales begin at 6 p.m., with the first game being called at 7 p.m. Snacks and beverages will be available under the big tent at the corner of the Post Road and Nearwater Lane.
___________
— an announcement from Noroton Fire Department
___________
The block party on Saturday, a great event for the entire family, kicks off at 5 p.m., at the corner of Post Road and Nearwater Lane.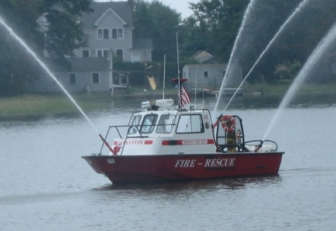 There will be a wide variety of food and beverages, as well as live entertainment, including the renowned Highland Rovers and Jump the Gunn bands. Admission is free.
The drawing for the boat raffle will be at 10:30 p.m. (attendance at the drawing is not necessary to win).
The Noroton Fire Department, established in 1896, will use the proceeds from the Bingo and Block Party fundraiser for training and equipment necessary to ensure the high level of response and service that the Darien community depends on.