Plans for the Darien Nature Center's fundraising party, Fireside, are well underway thanks to continued financial and in-kind support from the community.
Although tickets are sold out for Saturday's event, sponsorship opportunities are still available.
— an announcement from Darien Nature Center
The 4th annual event will be held outdoors at the Nature Center at 7 p.m., Saturday, Oct. 16 at 7:00 PM to a sold-out crowd.
"We are beyond grateful for the excitement surrounding this year's Fireside, especially after being forced to cancel last year," said Event Co-Chair Meaghan Hetherington.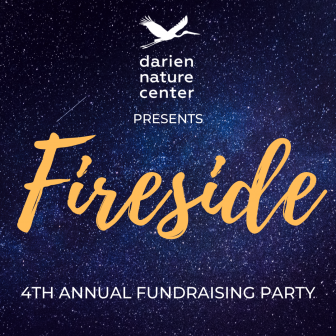 "People are ready to gather and express their shared love for this gem we are so lucky to have in our community. Our auction will be full of unique experiences and offerings donated by dozens of local families and businesses."
Fireside is the Nature Center's largest yearly fundraiser; all proceeds support their mission of inspiring passion and respect for the natural world through nature education, first-hand experiences with nature, and environmental action and stewardship.
ODD Job Landscaping, Menzies Luxe Retreats, Matthew Dougherty Architects, and Dental Arts of Darien are lead business sponsors this year. Other corporate sponsors include: First County Bank, Teed & Brown Lawn Care, BMW of Darien, Dr. Katie Takayasu, Knight Rolleri Sheppard CPAS, Darien Sport Shop, Tory Insurance, and Russo & Rizio Attorneys.
Beverage sponsors include: Leary's Liquor Cabinet, Two Roads Brewery, Litchfield Distillery, Barrelsmith, RIPE Bar Juices, and Smile Beverage Werks.