Ahead of the snow and ice last week, Channel 12 Meteorologist Steve Teeling visited 4th graders at Royle Elementary School to talk about weather forecasting and being on camera.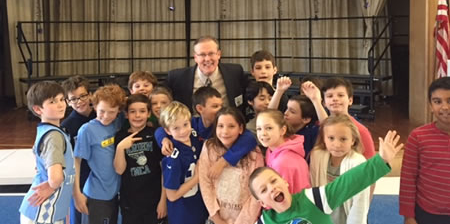 Students had an opportunity to learn about the video effects and technology used to superimpose images on a green screen during a weather forecast. He also explained how computer modeling is used to predict storms like the one that closed Darien Public Schools last Thursday — the first school closing of the winter.
___________
— This article is from the Darien Public Schools "News of the Week" newsletter.
___________
"It was a great event and the kids really enjoyed it," said Royle Assistant Principal Natasha Torre. Torre also noted that Teeling engaged the children with two science experiments that displayed the phenomena of static electricity and hot air rising.
Channel 12 aired the visit as part of their segment on Weather Kids last week.
With one school closing due to weather, the Darien Public Schools end of school year date shifts from June 13 to June 14, 2017 for students.