The Darien Department of Public Works is organizing the town's annual Household Hazardous Waste Day to be held from 9 a.m. to 1 p.m., Saturday, June 5 at the Noroton Heights Train Station.
— This article is based on an announcement from the Darien Department of Public Works
The event gives you an opportunity to get rid of toxic, sometimes poisonous household items you don't want that could be a hazard to you and your family members, especially children.
And it lets you do it in a safe way that doesn't hurt the environment, making it a better alternative to putting it in the trash, which would go to an incinerator that puts it into the air; flushing it down the toilet, which sends it to Long Island Sound; or pouring into the soil on your property.
If you're going to the drop-off site on the train station's south parking lot (nearest the tracks leading away from New York City), you need to use the entrance at Hollow Tree Ridge Road. After driving through and dropping off your items, you leave the station using Ledge Road, near Post 53.
You can only drop-off certain items, and they do not include paint (which can go to the town Recycling Center / Transfer Station further down on Ledge Road. If you bring unacceptable items, you'll be driving away with them. Here are the DPW's "Bring" and "Don't Bring" lists, along with some other advice.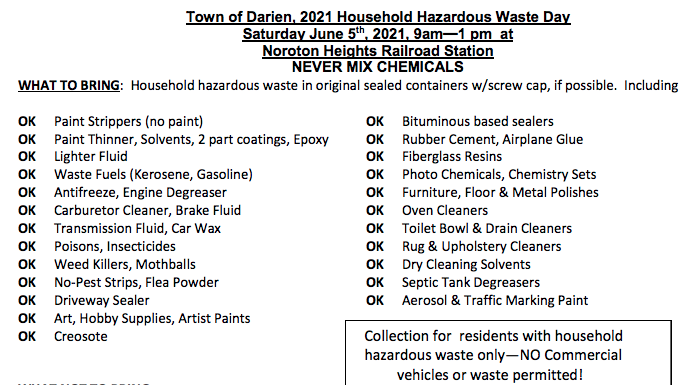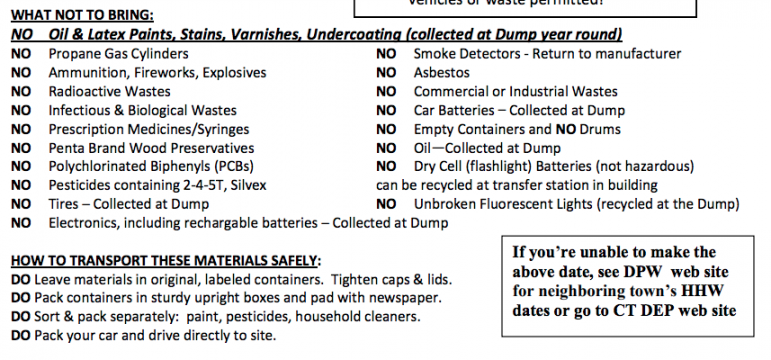 You Can Also Go to These Towns on These Dates
Area towns have agreed to take household hazardous waste from residents of Darien when they hold their drop-off days. Westport and Greenwich have already held their household hazardous waste days, but here's the schedule for the rest: