Here's a roundup of Darien business developments in the past week:
You can get a table and join about 90 exhibitors at the Multi-Chamber Expo coming Wednesday, March 23 at Norwalk Community College, the Darien Chamber of Commerce just announced.
About 250 to 300 attendees are at the event each year, which is free to the public. Participating chambers, along with Darien, are from Fairfield, Norwalk, Stamford and Westport/Weston, along with the Bridgeport Regional Business Council.
"This is an exceptional chance to gain exposure for your business, network, and reach more prospective customers," the Darien Chamber of Commerce said in the announcement. "Tables are $350 each, a limited number of positions are available with electricity for $50. To reserve a table, click here."
The event takes place from 2 to 5 p.m. at the college.
***
Trader Joe's renovations are underway (Darienite.com reported on the planned expansion late last year). The wall on one side of the store has been removed, and the store will be enlarging its space in that direction.
***
NEAT Coffee announces: "It may have taken a little while, but our entire lineup of coffees as well as other gear is now available through our webshop."
***
Did you know that on your birthday, your sandwich at Uncle's Deli is free?
***
Attend a workshop on leadership presented by SCORE Fairfield County at Darien Library on Wednesday (that's tomorrow) March 2, from 6 to 8 p.m., check-in starts at 5:30 p.m.
Here's the library announcement:
This workshop will help you develop a better sense of who you are as a leader and how to harness your strengths to get things done through others. You will explore your style, how you can use and misuse your style in leading, influencing, selling to, and problem solving with other managers, employees, suppliers and even customers. You will learn:
• A framework for interpersonal style
• How leaders leverage their style
• Common leader blind spots and mistakes leaders make
• Strategies for influencing others when you do not have limited power of authority
About the presenter
Chuck Presbury leads an executive and organizational development consultancy focused on developing high-performing managers and teams. Chuck has over 25 years of experience in training, executive development, and human resource executive management at McGraw-Hill, National Broadcasting Company, Pitney Bowes, Preferred Health Care and SCM.
He currently teaches leadership and management courses at the John Welch School of Business at Sacred Heart University. He is a Board Member of the Greater Norwalk Chamber of Commerce, a leader in the Chamber's Leadership Institute and serves on the Board of Advisors of Executive Development Associates.
***
Colin Ambrose, owner of Estia's Back Porch Cafe, recently attended a three-day workshop at the Food Business School, and he noted some advice to remember in a detailed blog post, including six bullet points at the end. Here are the three odd numbered ones (read the whole thing here):
— "Create a mission statement, teach it to your team and require them to live by it from the start.
— "Be honest, be bold, chase your dreams with professionals who have experience in your field.
— "Consistently tell your businesses story with clarity stressing it's unique authenticity."
***
Holly Hurd of Darien and three entrepreneurial mothers will speak at a panel presentation sharing tips from their paths to creating successful businesses: 10 to 11:30 a.m., Thursday, March 10 at Westport Library. Here's the announcement from the library:
Thinking about starting a business? Meet Holly Hurd and three entrepreneurial mothers in a panel presentation share trials and tips from their paths to creating successful businesses.
You'll also hear stories of other women who started ventures with no business plan, no start up capital and no babysitter—like the woman whose cookies ended up in Whole Foods, the women who created a product for busy moms that is now found in baby stores all over the country and the mom who started making money with one email.  Get inspired to take your passion or inspiration and turn it into a success story.
Holly Hurd is the founder of VentureMom.com, a web site devoted to showcasing moms who have their own businesses. She has interviewed hundreds of moms with their own ventures and written the book, Venture Mom: From Idea to Income in Just 12 Weeks.
Hurd was featured in Futures Magazine, USA Today and in Fortune's "People to Watch" column for her exceptional work managing her own hedge fund on Wall Street.
***
Helen Ainson now has free shipping for items sold at its online store. The Helen Ainson blog also has a post on "Oscar-worthy gowns."
***
Learn about "IT Security for Small and Mid-Sized Businesses" at this workshop at Darien Library on Tuesday, March 8, from 6 to 8 p.m. (check-in starts at 5:30 p.m.). Here's the announcement:
This workshop will provide an overview of the technology areas and how to secure them against theft and destruction of data and systems.
• The different IT areas that you need to be concerned about securing
• Options for securing each area
• Additional IT considerations for your business
About the presenter
Linda Kuppersmith is President and Chief Technology Advisor of CMIT Solutions of Stamford. For more than 10 years, CMIT Solutions of Stamford has helped small and medium-sized businesses maintain a competitive advantage in the marketplace through the smart use of technology.
This workshop is presented by SCORE Fairfield County.
***
Darien Depot thanked Vavala's Deli, just down the street at 156 Heights Road —"once more" — for donating food for the Depot's Winter Sports Captains Dinner.
***
Learn about  "Financial Reporting & Planning," the latest presentation in Ferguson Library's "Simple Steps for Small Business Success" series. This event takes place in the third floor Conference Room of the library in downtown Stamford from 6 to 9 p.m., Wednesday, March 9 (check in at 5:30 p.m., and register beforehand here).
Here's the announcement on the library's online calendar:
Part 4: Financial Reporting & Planning – Review of key financial statements and the development of a comprehensive financial plan. The importance of understanding the key financial drivers of the business will be a centerpiece of the discussion. Participants will receive a Certificate of Completion at the end of this five-part program. Register online for this series of workshops.
And from 6 to 9 p.m. on Wednesday, March 16, the same series continues with:
Part 5: Funding Sources/Conversation with Entrepreneurs – Learn about the funding structure required for start-up businesses today, including a presentation from lending sources specializing in start-up and small businesses. Includes discussion and Q&A with SCORE-mentored, start-up business entrepreneurs.Participants will receive a Certificate of Completion at the end of this five-part program. Register online for this series of workshops.
***
First County Bank, which has a branch on the Post Road in Darien, announced on its blog that the bank "has been recognized by The Business Council of Fairfield County through their Healthy Workplace Employer Program, as one of the area's top companies for creating healthy workplaces.
"Our Working on Wellness program received a silver award for promoting a healthy habits and assisting our employees to live healthier lives."
***
Even though it's difficult to drive north on I-95 on a weekday evening (although it's gotten easier since the new lanes have been added between Exits 14 and 15), you may want to brave the traffic for this: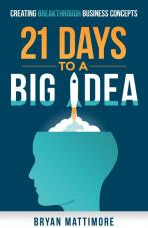 "Author and corporate creativity consultant Bryan Mattimore discusses his book 21 Days to a Big Idea and the path to inspiration, modification and realization of new ideas" from 7 to 8:30 p.m., Tuesday, March 15 at Westport Library. "What is the secret to innovation? How do people come up with new ideas and methods that catch on with the general public? What is the process that turns a concept into a beloved product or service? Hear how to deal with these issues in today's highly competitive world." — for more information, see the full announcement from Westport Library.
***
Now that the weather is occasionally warmer, if you're walking downtown you may find the seats at various spots in the area a good place to rest (or in some cases, even eat lunch — but it will need to get a lot warmer).
There's:
Grove Street plaza to keep in mind,
The benches at Darien Sport Shop's fountain on the corner of Leroy Avenue and the Post Road,
A spot Whole Foods Market provides not far from that at the corner of the Post Road and Ledge Road and
This spot (pictured) in front of William Pitt Sotheby's, near the corner of Corbin Drive and the Post Road.
***
New Canaan Library has some one-time workshops Darien business people might find useful:
"Get Creative with Microsoft Word 2013" — 5:30 p.m., March 24 — "Microsoft Word is a powerful word processing tool. Did you know you can also use it to create beautiful flyers, calendars, cards and much more? Join Librarian Laurie Iffland and learn how to make Word become a desktop publishing software."
"iMovie for Beginners" — 6 p.m., March 22 — "Join Reference Librarian Alexa Roy for a session on getting started in iMovie. Learn how to import and export videos, splice content, and put it back together with seamless transitions. For this class you will need to bring your own MacBook and a piece of video to play with.
***
Give a hand to The Waters Edge at Giovanni's for donating all the proceeds from the kids' menu this month at the restaurant to Kids in Crisis. Here's the announcement posted on Facebook:
***
Greenwich Library is hosting a workshop titled "Reach Your Business Goals with a Healthy Work/Life Balance" from 6 to 8 p.m., Wednesday, March 16 in the library's Meeting Room:
Here's the library's announcement (follow the link to register beforehand):
"In this highly interactive workshop, Shannon Daniels will discuss how you can effectively set and reach your business goals while also maintaining a healthy work/life balance.  You will learn how to develop a plan tailored to your specific lifestyle and business needs so that your goals are realistic and achievable."
***
One of the many great libraries a short distance from Darien, Westport Library concentrates more on providing services to businesses than we've seen elsewhere. Here's what the library says about how it helps entrepreneurs, on a page of the library's website devoted just to that:
"Whether you have a great idea for a new business or want to grow an existing one, the Westport Library is a gold mine of resources for entrepreneurs. Small business owners, inventors and visionaries make extensive use of our business books, online and hard copy reference and databases, and perhaps most important of all, our experienced business librarians.
"The Library is also a great resource for meeting and holding workshops and other business-related programs and events. Part of the Library's mission is to help anyone with a business vision build something new."
Westport Library Services
Westport Library Initiatives
The Refinery – In the fall of 2014, the Library partnered with The Refinery to help accelerate startups led by women. The program was made possible by a grant from the Institute of Museum and Library Services. The second phase of this initiative begins in February 2015.
Women Entrepreneurs Group – This Library-sponsored group of women with diverse business interests meets monthly. You can also join their Linkedin Group.
_________________
"Taking Care of Business" is a regular feature on Darienite.com. Have a new development in your business? New hires and promotions, awards and expansions and introductions of significant new services are interesting to our readers. Is your business doing something big for the community? Tell Darienite.com and we'll cover it here. Email dave@darienite.com.