The sewer project previously announced for the northeast area of town has been postponed from this week to next week, the Darien Department of Public Works announced, and the department announced another project downtown for that same week.
The new downtown project is on a part of Center Street nearest to Old Kings Highway South.
Center Street, Downtown
The Center Street sewer work will take place from 12 midnight Tuesday to Wednesday and continue for eight hours, until  8 a.m.,Wednesday, Feb. 19, according to an announcement from the DPW. The announcement also said:
"The Town of Darien has hired a company to perform cleaning, internal inspection, and relining of sanitary sewers. The map below shows affected sewers (marked in green – a portion of Center Street).
"We ask that you avoid on street parking (especially over sewer manholes) on these streets during proposed work schedule."
Northeast Darien
"Inclimate weather has postponed our work until next week," Assistant Public Works Director Darren Oustafine said in a news release.
All work is scheduled for the overnight hours from Monday to Friday, Feb. 17 to 21 (the original schedule was from Monday to Friday, Feb. 10 to 14).
Consultants were hired by the department to inspect of the sewage collection system in the area of town roughly north of Interstate 95 and east of the Darien Railroad Station (see the map, below).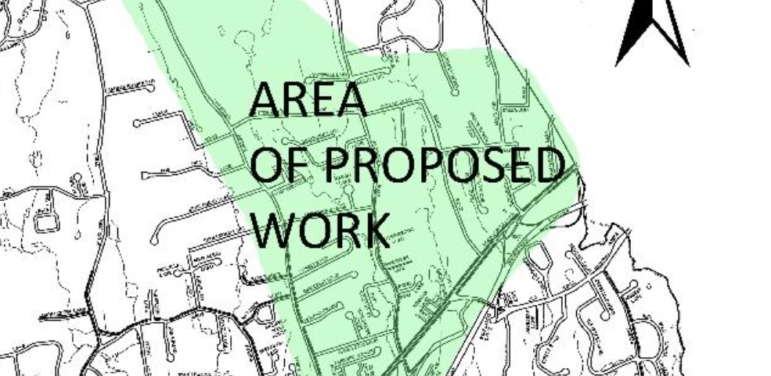 (If you're still not sure that your street is in the green area on the map, you can compare it with this Google map of Darien.)
"All personnel will carry and produce identification upon request," the announcement said. "Police are aware of the activity."
"You may see or hear activity in these areas," the department said in an announcement. "There is no action required on your part. No one will need access to your home nor property as part of this work."
If you have any questions, feel free to contact Anthony Campanella of the Darien DPW at 203-656-7374 or acampanella@darienct.gov.
(Here's the previous announcement.)