Come learn about the dangers associated with vaping and how to talk to your child about e-cigarettes and vapes at a presentation on Wednesday, Nov. 14 at Weston Middle School Library.
— an announcement from the Alcohol and Drug Awareness Program of Weston
Join prevention expert Denique Weidema-Lewis of Positive Directions, for an interactive session from 7 to 8 p.m.
She'll walk you through:
—An overview of what e-cigarettes and vapes are
—Harmful effects of e-cigarettes and vapes
—Local and national youth data related to use
—Marijuana and e-cigarettes
—What you can do if you suspect your child is using
If You're Going …

7 to 8 p.m., Wednesday, Nov. 14, 2018
Weston Middle School Library, 135 School Road, Weston
The event is free, but register here.
The event is sponsored by ADAP (Alcohol and Drug Awareness Program) of Weston, together with Positive Directions, an "alcohol and substance misuse prevention and individual counseling services" practice in Westport.
Resources if you're concerned about vaping:
Online tips and information — visit www.drugfree.org or www.tpaud.org.
Advice on how to quit vaping:
Smokestoppers for Teens
St. Vincent's Hospital (203)576-5451
CT QuitLine — 1-800-QUIT-NOW
About Vaping
From the Trumbull Partnership Against Underage Drinking & Drugs (TPAUD):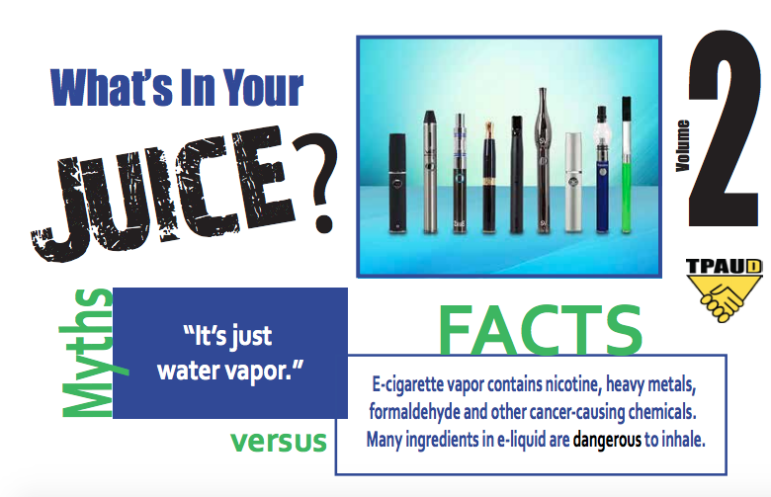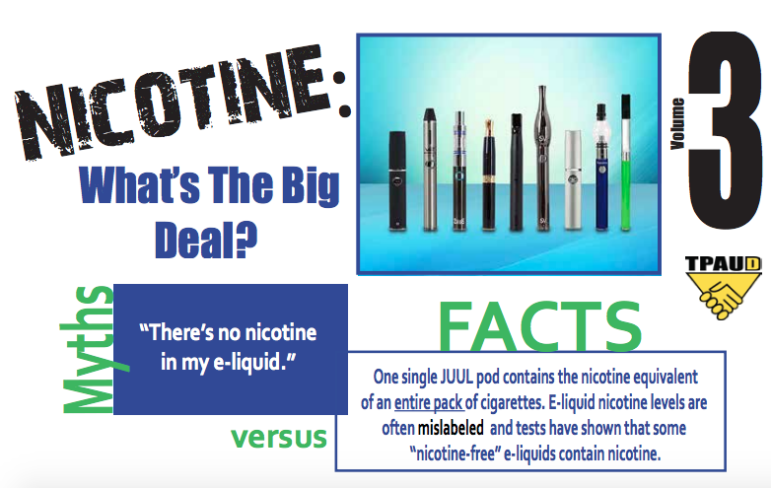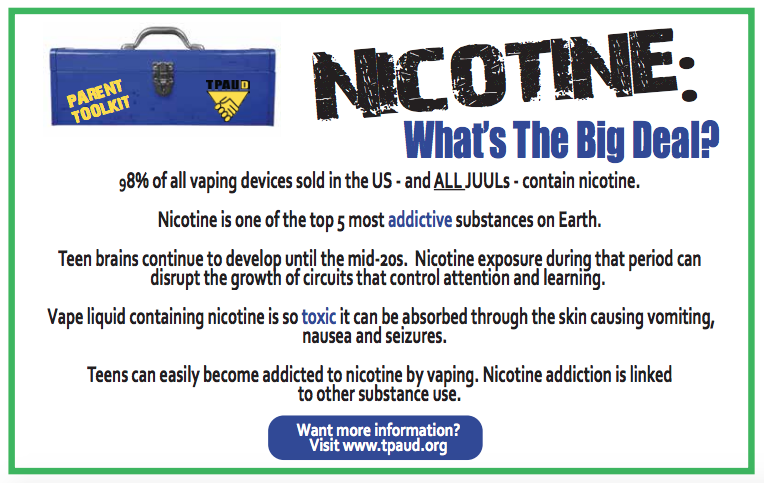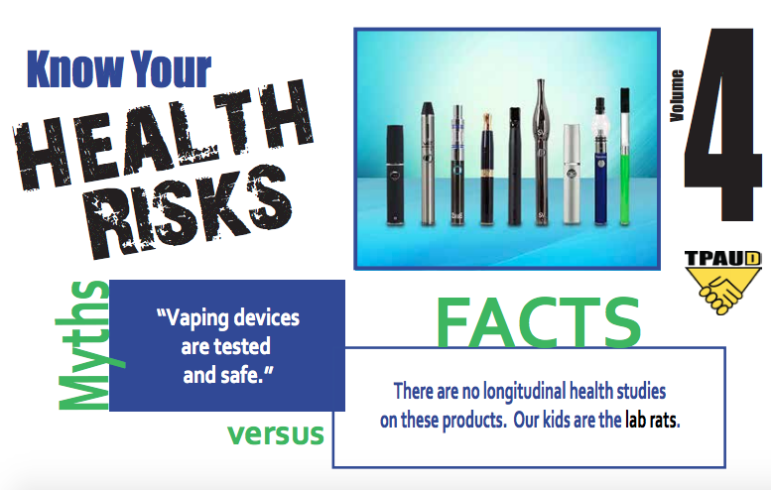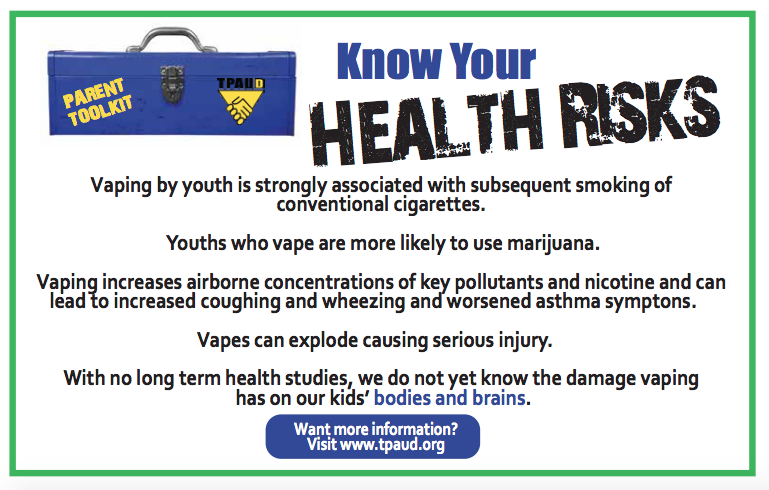 Here's a list of facts from TPAUD that overlaps with many of the same points made just above:
1. 98 percent of all vaping products sold in the U.S. — and ALL JUULS — contain nicotine.
2. Nicotine is a highly addictive chemical, which can affect brain development in kids, impacting attention and learning.
3. Each JUUL cartridge contains 50 mg of nicotine — equivalent to the amount of nicotine in an entire pack of cigarettes — and around 200 puffs.
4. Teens who vape are more likely to smoke traditional cigarettes and marijuana (American Academy of Pediatrics).
5. Vaping can cause eye and ear irritation and nosebleeds.
6. Aerosols in vaping liquid enter the lungs unfiltered and leave chemical residue. Some chemicals found in vaping liquids are known carcinogens.
7. The FDA does not currently regulate vaping manufacturers. We don't know what's in vaping devices or vaping liquids.
8. There have been NO longitudinal studies on the long-term health effects of vaping— our kids are the lab rats.
9. "Dab pens" are vapes used to ingest high-potency THC in oil, wax, or solid form, without the tell-tale marijuana odor.