More construction is coming to town in the next couple of years, and more projects are in the pipeline after that, Planning and Zoning Commission Chairman Stephen Olvany said Monday in one of the four State of the Town addresses to the Representative Town Meeting.
Here's Olvany's speech, as prepared (no words have been changed, but minor editorial style changes have been made and headlines added): 
Thank you, Mr. Moderator and fellow elected officials. Good evening everyone, I am Stephen Olvany, Chairman of the Planning and Zoning Commission. I was recently elected as the chair and I am very excited for the position and for its challenges.
Thanks, Board Members
Before I commence with my update, I would like to extend my thanks to my fellow commissioners for all their hard work and dedication. Since last year, three members have left — John Sini, who is now on the Board of Education; Kevin Cunningham, who now serves on the Police Commission; and Liz Riva.
I want to thank them for their hard work and service to the community, and to formally welcome our new members — Cara Gately, George Reilly and Larry Warble.
Work of the Land Use Boards
I want to thank John, Kevin and Liz for the recent work that they, as well as three current members have done regarding updating our zoning regulations.
This was a natural outgrowth of the 2016 Town Plan of Conservation and Development, and we were able to better clarify and streamline some of the zoning regulations as they relate to food uses and commercial zones in Town.
We were responsive to comments we had received relative to making the regulations simpler, and having fewer commercial districts. We believe that the hard work we put into these new regulations will have a beneficial impact to development and redevelopment in town going forward.
The first topic I'd like to speak on tonight is the role that the Planning & Zoning Commission plays. Our Commission is just one of four local land use boards that have a role in development or redevelopment of the community. These also include the Zoning Board of Appeals, the Environmental Protection Commission and the Architectural Review Board.
Over the next few weeks, I will be reaching out to the chairmen of each of those boards to discuss our common roles, and to thank them for their work in this team effort.
In my six-and-a-half plus years on the Planning & Zoning Commission, and in my former tenure on the Zoning Board of Appeals, I realize that all of the boards play an essential part in the redevelopment of the community, and making Darien what it is today.
Our job as I see it, is to keep a good balance of development and re-development, and the currently existing small New England town character of Darien.
The Planning & Zoning Commission would also like to see Darien have a strong downtown, and walkable business districts.
Redevelopment in the Past Year
Second, I want to touch upon some of the redevelopment that has occurred within the past year or so. In reading Mr. Sini's speech from last year, I see that he noted the theme of "change."
Change in Darien occurs almost daily, but is gradual. I have a quick Powerpoint showing some of the projects completed within the past year, and now underway, and soon to come.
Some of you may be familiar with many of these, but I wanted to give you a sense for the positive economic situation we are in relative to other local communities.
Keep in mind that according to the assessor, with every million dollars in grand list growth comes about $12,000 in tax revenue to the town. Jon Zagrodsky, chairman of the Board of Finance, will be discussing these types of financial mathematics in further detail in his remarks.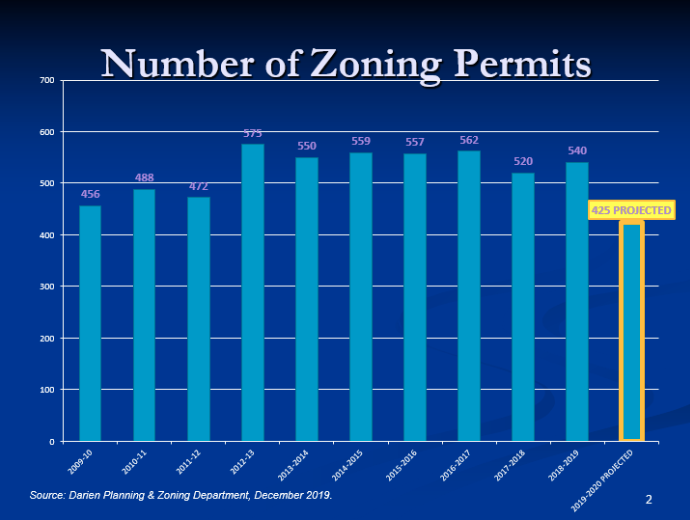 Overall, zoning permits are down compared to the past few years. The graph on the screen shows that we project a decrease for the number of permits for this current fiscal year.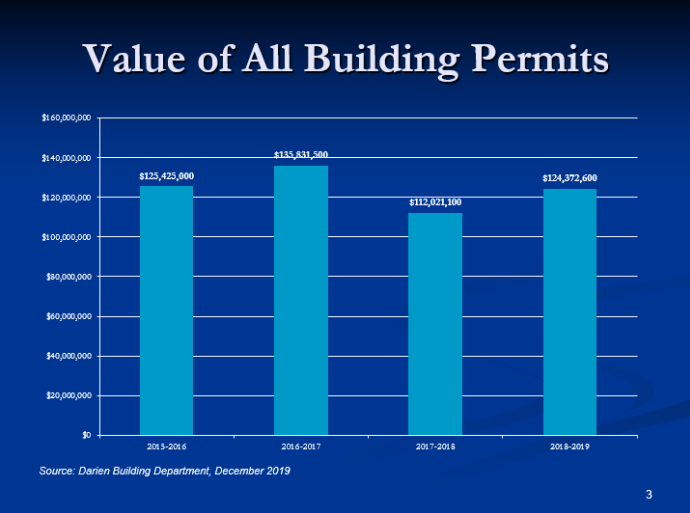 This graph shows the value of the building permits issued since 2015. As you can see, while there has been some variation in total value over the past few years, all of these years have resulted in well over $100 million in total value constructed annually.
With that said, I'd like to thank you all and the community at large for investing in your properties and validating that we in Darien are doing it right.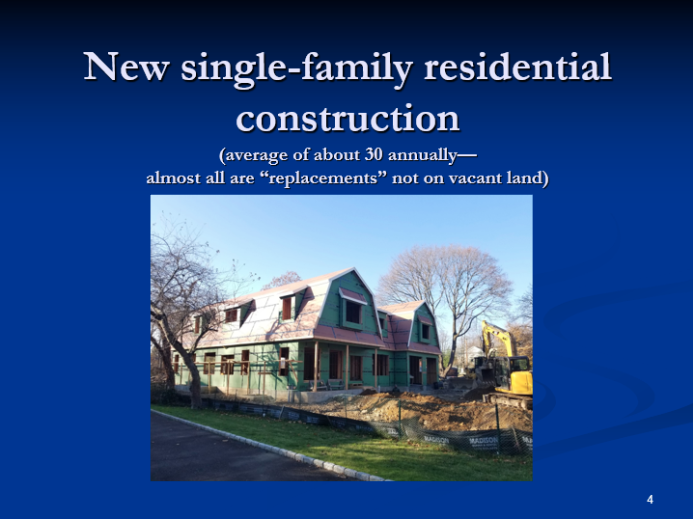 New single-family residential construction continues. We are seeing about 30 new houses constructed annually for the past few years, and this year is no different. The slide you see is a new house going in at 6 Outlook Lane.
Most new single-family residential construction is "replacement" housing, which is the teardown or demolition of an existing residence and the construction of a new, replacement residence on the same lot.
As you know, since Darien is mostly "built-out," there are very few vacant lots in town. Again with that said, the small three- and four-bedroom houses are being replaced with larger four- to five-bedroom houses.
That is something that I know the Board of Education is monitoring, and that board is in the process of working with a consultant on school enrollment projections.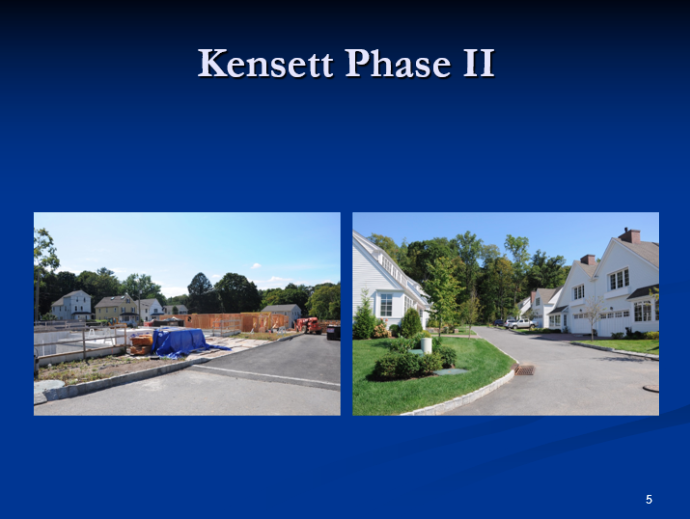 The multi-family permits are quite interesting, and vary from year to year.
The largest multi-family project is Kensett. Kensett Phase II is in the process of being completed. That Phase II area is a redevelopment of vacant land off of Hoyt Street and some older homes at the end of Wakemore Street, into 14 townhouse-style large condominiums.
This entire project, which includes more than 70 new units in phases I and II, should be completed in 2020. At an estimated average tax bill of $15,000 per unit, that adds over $1 million to the tax roll.
Old Town Hall Homes will be a new 55 unit deed-restricted apartment building. It will then be rebranded as "The Royle at Darien," since it was originally the site of Royle School (prior to it becoming Town Hall).
Expected completion date of this project is sometime in the summer of 2020.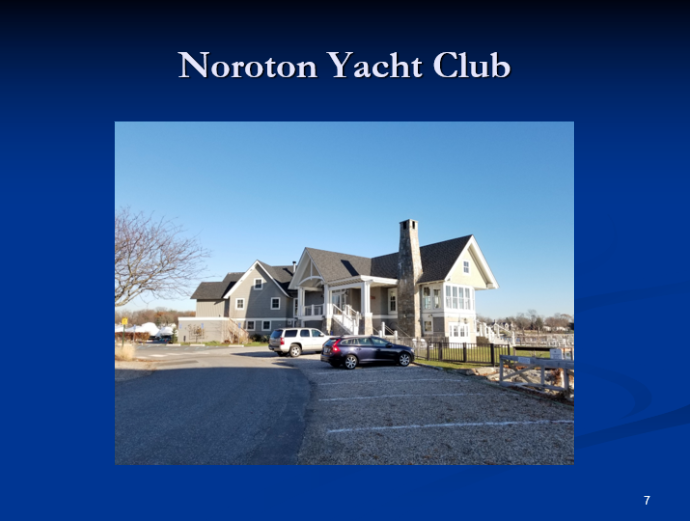 Two private clubs also have recently completed new construction — the Noroton Yacht Club finished a new building a few months ago. This new building complies with all flood regulations.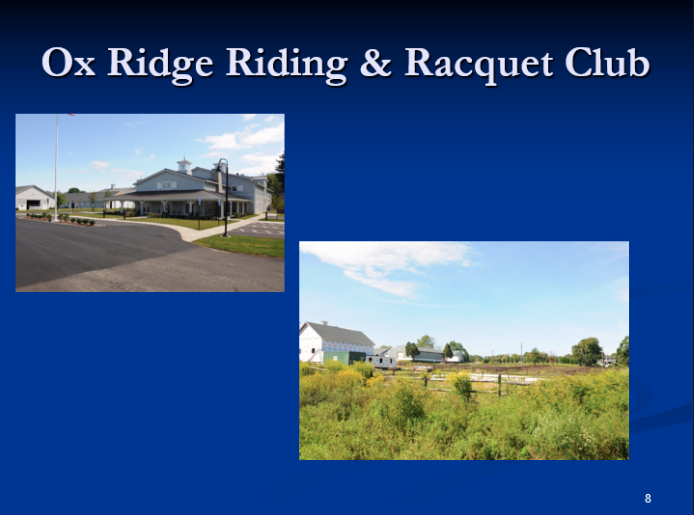 The Ox Ridge Riding & Racquet Club has also completed new construction, which will allow it to focus on other activities in addition to horseback riding.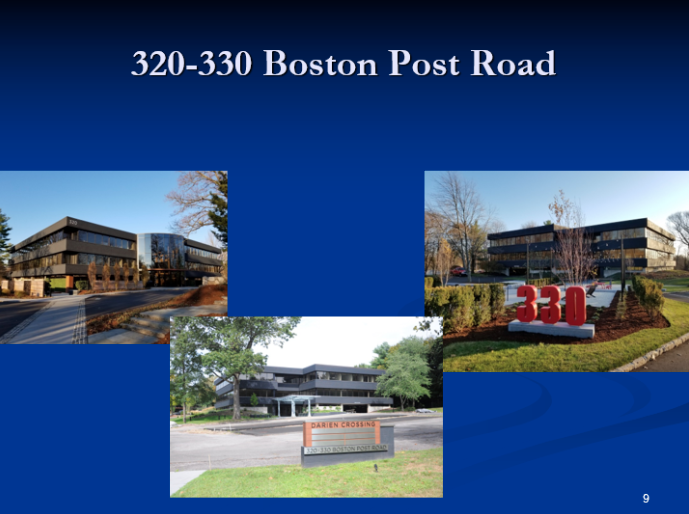 As for commercial redevelopment, there has been quite a bit recently.
—320-330 Boston Post Road — there are two office buildings now being renovated for office uses. Many of you may have noticed the new facades, new landscaping, new sidewalks, and rebranding of the property. We are pleased to see these buildings containing vibrant office uses, rather than lying dormant.
Orange Theory at 364 Boston Post Road recently opened and has been a big success. The landlord has leased most of the refurbished building, and a gourmet grocery, Pasta Vita, will open in December or January, taking up nearly all of the remainder of the vacant space.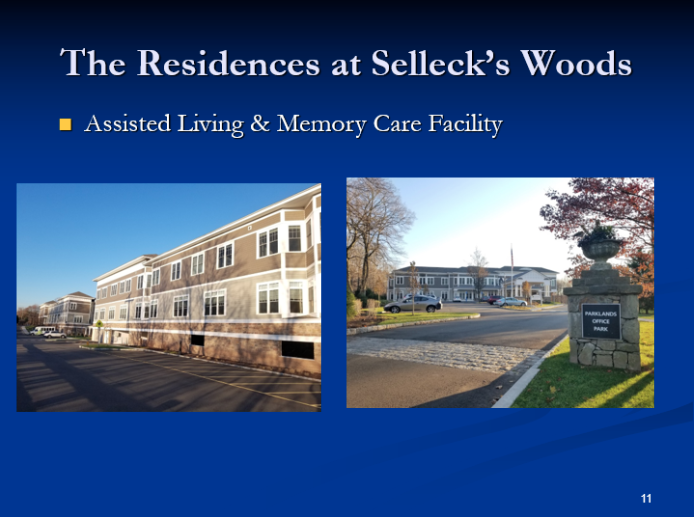 The Residences at Selleck's Woods, an assisted living/memory care facility, was completed a few months ago on Parklands Drive.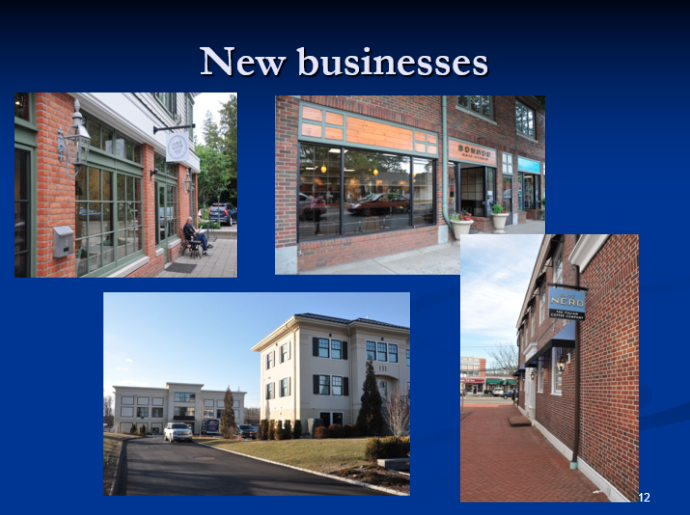 There have been a number of new businesses established since this time last year—too numerous to name them all. Some of them include:
—Flour Water Salt Bakery
—BonBon hair salon
—Hollow Tree Self Storage
—Caffe Nero
—J. McLaughlin, and
—Shoes N More
As you have all heard by now, and saw the presentations at a previous RTM meeting in October, three major redevelopments are about to get underway.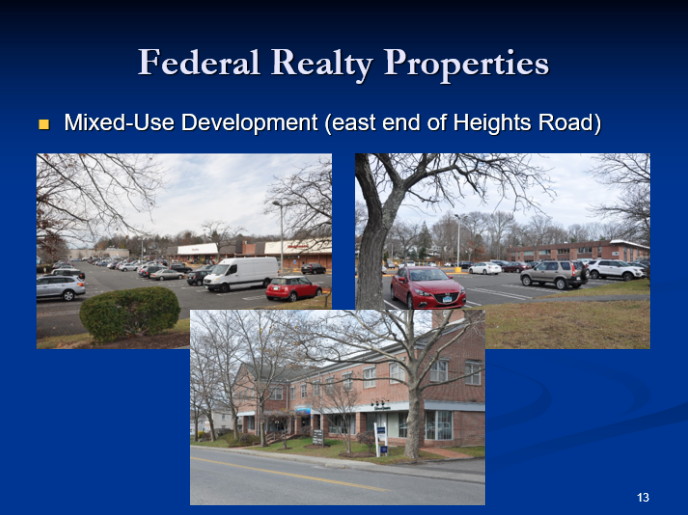 The first step in the Federal Realty project in Noroton Heights is the construction of a new Walgreens between the existing Walgreens and Equinox. That work, which I will call Phase I, will occur between now and fall 2020.
Significant drainage improvements will also be implemented as part of this project. According to Federal Realty's 3Q2019 REIT filings, the projected cost of their project is $110 to $120 million.
This is in addition to their initial purchase in April 2013. Federal's anticipated stabilization date is 2023 (10 years). They are underway and the Stop & Shop on Heights Road is to close on Thursday, Dec. 19.
I am pleased to note that the new Noroton Heights Shopping Center redevelopment project is about to get underway. It is a 40+ million dollar project, and all the financing is finalized, a general contractor hired, logistics plans prepared, and they are ready to get started.
Demolition permits have been applied for with the Building Department for most of the existing buildings, and some demolition will occur starting in January.
A groundbreaking ceremony will be held on Wednesday.
Expected completion sometime in 2022.
A rendering of the final product is shown on the screen behind me.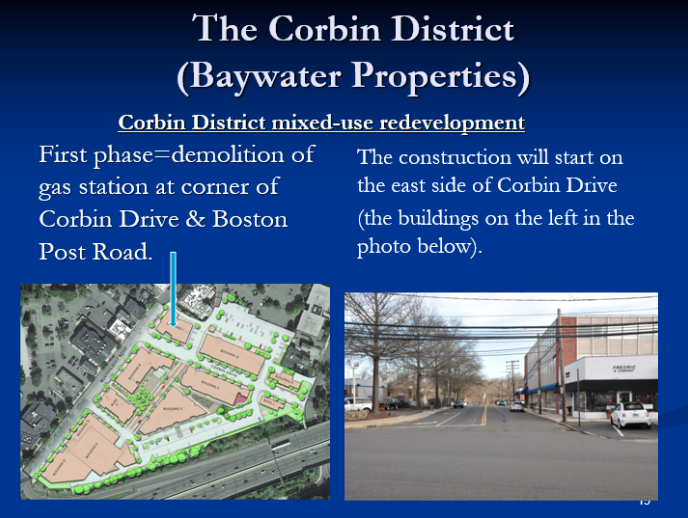 Finally, the redevelopment of the downtown, in what will be called, "The Corbin District," will get underway in spring 2020.
The first step will be the demolition of the Gulf gas station at the corner of Boston Post Road and Corbin Drive, and the related redevelopment on the east side of Corbin Drive. Changes to the buildings on the west side of Corbin Drive will get underway in 2021 or 2022.
I would also like to thank all these key investors, some of whom are local residents for investing in Darien and again validating that we are doing the right stuff.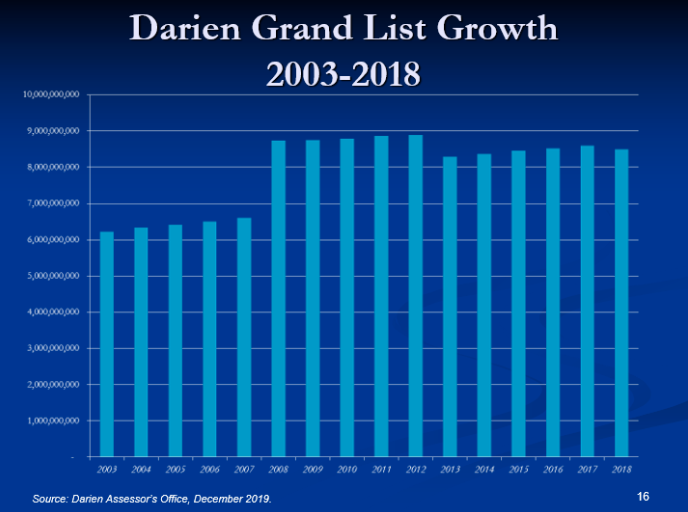 The final topic I wish to discuss is the Planning & Zoning Commission's role in being what I will call "stewards of the Grand List." Because communities get a majority of their tax revenue from local property taxes, it is essential that a stable Grand List exist. I believe that our Grand List continues to get stronger.
Board of Finance Chairman Jon Zagrodzky will get you more details about the changing Grand List in his State of the Town Address.
Coming Projects
In conclusion, I foresee a very interesting 2020 ahead. We will see the start of the new construction projects both in downtown and Noroton Heights. We will see the completion of Old Town Hall Homes — The Royle at Darien, and all 55 new units being occupied.
Our land use boards will be involved in the review and permitting of number of exciting new projects, including, but not limited to a replacement Ox Ridge Elementary School, and a review of the details of the Weed Beach Meadow and Trails project — a followup to our October finding that the improvements are generally consistent with the Town Plan of Conservation & Development.
The various land use boards spent hours of time and effort working with applicants in reviewing and analyzing their proposals, and we are anxious to see the fruits of our labor.
So as John Sini mentioned to you last year, we will soon be going through a little discomfort in terms of construction activity, but the end result should be spectacular new additions to both our residential and commercial tax base, and new living, shopping and dining opportunities.
I hope next year I am up here saying that all of our planning is going well and as exactly as designed and envisioned.
Grove Street and Commercial Renewal in Darien
One last thought: I can remember when Grove Street in downtown was very different than it is today, and the proposed improvements for the area were considered a big change for our downtown.
Today, it seems like we have a "mini Arthur Avenue District" in downtown Darien, which contains a butcher, a fish market and our new bread baker. I continue to be excited about the changes that are imminent, and believe that they will all contribute to a better Darien.
Thank you again for your time this evening. I look forward to working with all of you in the year ahead.