Booze is banned from trains on Saturday; some minor timetable changes for the New Haven Line will begin on Sunday, March 18; buses will replace trains late on Saturday on the New Canaan Branch, and the train to the games at Yankee Stadium will have some service changes, Metro-North announced.
SATURDAY: No Booze on the Trains on St. Patrick's Day
A Metro-North announcement (edited to include just the New Haven Line):
On Saint Patrick's Day, Saturday, March 17, to maintain orderly travel for customers, Metro-North will not permit alcoholic beverages on trains, platforms or at stations.
MTA Police will confiscate any alcoholic beverages brought onto Metro-North trains and facilities.
Customers should buy round-trip tickets in advance using MTA eTix, or arrive at the station early to buy tickets. For passengers traveling to the St. Patrick's Day parade, the following additional service will be provided:
The following additional inbound service will be provided on the New Haven Line:
Departing New Haven at 8:40 AM, stopping at West Haven, Milford, Stratford, Bridgeport, Fairfield Metro, Fairfield and Westport and then operating express to Harlem-125th Street and arriving at Grand Central Terminal at 10:31 AM,
Departing Stamford at 9:50 AM, making local stops and arriving at Grand Central Terminal at 11:02 AM.
On the New Haven Line, extra afternoon and evening trains will operate as demand warrants for outbound travel.
For train times, see our schedules page, or download TrainTime© to your smartphone for quick access to our schedule.
LATE SATURDAY: New Canaan Branch Switch to Buses
On Saturday, March 17, work on the New Canaan Branch means riders will be on buses instead of trains late that night. Here's the announcement and schedule from Metro-North: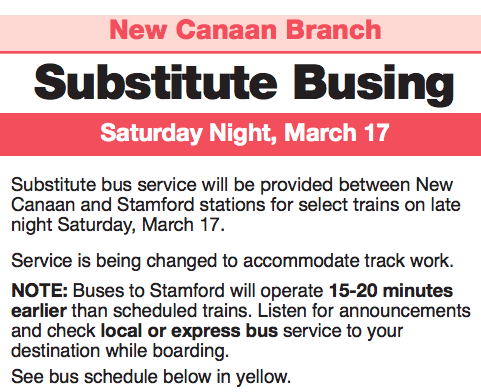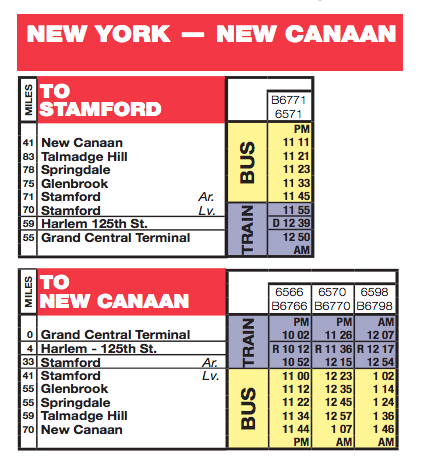 SATURDAY: 2018 NYC Football Club 'Train to the Game' Service
An announcement from Metro-North:
The New York City Football Club (NYCFC) kicks off its fourth season at Yankee Stadium this March!
The best way to join the ranks of NYCFC's growing fans is by taking our frequent and convenient "Train to the Game" service, which offers plenty of Hudson, Harlem and New Haven Line trains to and from every home game.
You can also take advantage of the frequent game-day shuttles operating between Grand Central and Harlem-125th Street Station and Yankees-E. 153rd Street Station, a short walk from the stadium!
See the PDFs below for game-day train schedules.
NYCFC Train to the Game Schedules:
Saturday, March 17
— New Haven Line
— GCT/Harlem-125th St.Shuttle
For more information about the Yankees-East 153rd Street Station and service, please click here.
To see more details on Free/Paid Game Day Parking at stations.
Please note: Backpacks and other containers will not be allowed into Yankee Stadium for all games. Check the Yankees' website for a complete list of prohibited items.
STARTING SUNDAY: Minor New Haven Line Timetable Changes
The New Haven Line's next schedule change is effective Sunday, March 18, with what the railroad describes as "minor changes."
All weekday inbound trains will make stops at Rye, Harrison and Mamaroneck one minute earlier to support track work in the area.
March 18 timetables are available on Metro'North's schedules page or on the railroad's Train Time App  and in Grand Central Terminal and at outlying stations.