Police in Darien and elsewhere, including Connecticut State Police, will be watching for vehicles with violations of the state seat belt law this Thanksgiving Week, when plenty of people are on the roads to visit family and friends.
Here are two announcements explaining the law and enforcement of it:
Announcement from Darien Police
The national "Click It or Ticket" enforcement wave will be taking place from Monday, Nov. 21 through November 28th, 2016.  The Darien Police Department will be joining with hundreds of other law enforcement agencies across the country in renewing a pledge to save lives by intensifying efforts to enforce seatbelt laws among all motorists.
The current fine for adults who are not wearing a seatbelt while traveling in a vehicle is $92.
What Connecticut Law Says
All front seat passengers are required to wear seatbelts while traveling.  Passengers over 18 years old who are sitting in the rear seat of a vehicle are not required to wear a seatbelt unless the operator is under 18 years old.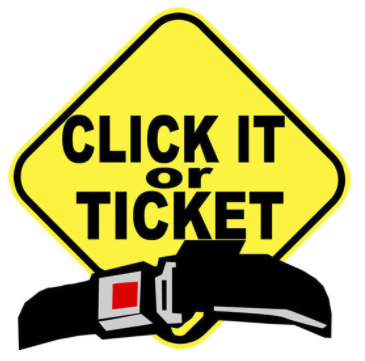 All passengers under 18 years old are required to wear seatbelts, even passengers who are sitting in the rear seat of a vehicle;  the current seatbelt fine for persons 16 years old and less than 18 years old is $120.
An operator transporting any passengers who are under 16 years old is responsible for ensuring that their passengers are properly seat belted, and it would be the operator who is cited for any of these seatbelt violations.
Connecticut State law also requires that children under 1 year old and less than 20lbs. must be secured in a rear facing child safety seat, this violation carries a $92 fine.
Passengers over one year old, less than 7 years old, and weigh less than 60 lbs. are required to be secured in a child safety seat or booster seat; this violation carries a $92 fine.
Once a child is over 7 years old and weighs more 60 lbs, that child could be seat belted in a regular passenger seat.
The No. 1 cause of death for children and teens in the United States is traffic crashes!  Statistics show an average of one fatality every 14 minutes and one injury every 13 seconds due to car crashes in this country.  Statistics also show that vehicle passengers have a 77 percent chance of surviving a fatal car crash if they are properly seat belted.  The current seatbelt usage rate in the State of Connecticut is 88 percent; the national average for seatbelt usage is 84 percent.
Buckle Up, the life that is saved may be yours, or your child's!
An Announcement from Connecticut State Police
This Thanksgiving The Connecticut Department of Transportation is teaming up with state and local police, and the U.S. Department of Transportation National Highway Traffic Safety Administration (NHTSA) and law enforcement agencies across the country on a high-visibility Click It or Ticket mobilization to make sure all Thanksgiving travelers are wearing their seat belts.
Thanksgiving is one of the busiest travel times of the year, when millions of Americans hit the road to spend time with friends and family. But more vehicles on the road means potential for more crashes and more fatalities.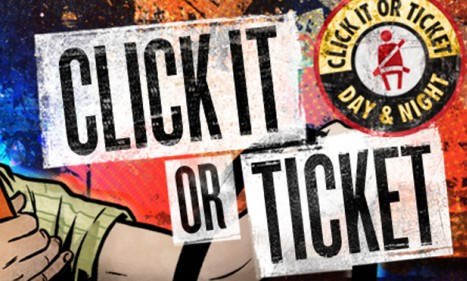 The Click It or Ticket campaign is designed to save lives by making sure all Connecticut drivers and passengers get the message to wear their seat belts. The campaign combines powerful messages about seat belt safety with increased patrolling for all unbuckled motorists.
"Tragically, almost half of the people who died in a fatal traffic crash last Thanksgiving were not wearing a seat belt at the time of the crash," said James P. Redeker, Commissioner of the CT Department of Transportation. "Wearing your seat belt is the single most effective way to protect yourself in a car crash."
In Connecticut, the law requires all drivers and passengers in the front seat, as well as all children under 16 in all positions to wear seatbelts. Fines start at a minimum of $92 for first offense.
During the 2014 Thanksgiving holiday period (Wednesday, Nov. 26, through Monday, Dec. 1), there were 341 passenger vehicle occupants killed in motor vehicle traffic crashes nationwide, and fifty percent of those killed were NOT wearing seat belts.
Some of these tragic deaths may have been prevented by seat belt use. NHTSA research indicates that proper seat belt use reduces the risk of fatal injury to front seat passengers by 45 percent, and the risk of moderate to serious injury by 50 percent.
In 2014, seat belts saved the lives of 12,802 passenger vehicle occupants. If seat belt use had been at 100 percent, an additional 2,814 people would still be alive this Thanksgiving.
"As Chairman of the Connecticut Police Chiefs Association Traffic Safety Committee we see the devastation first-hand when people fail to buckle up in a crash, so whether you're driving down the street, across town, or hundreds of miles away, you must wear your seat belt," said Chief John Gavallas, Watertown Police Department.
"This Thanksgiving and every day of the year, remember: Click It or Ticket. Day and Night."
For more information about traveling safely during Thanksgiving, please visit www.nhtsa.gov.