You can help get food to people nearby who could really use a hand. Use yours to fill a bag and leave it for letter carriers next Saturday.
— an announcement from Person to Person
Person to Person is participating in the National Association of Letter Carriers Stamp Out Hunger (Postal) Food Drive on Saturday, May 14.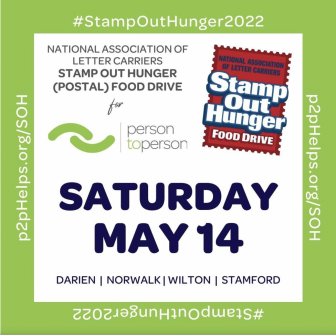 Residents of Darien, Norwalk, Wilton and Stamford will receive a P2P branded grocery bag in their mailboxes, thanks to the amazing letter carriers that deliver the mail.
We need you to FILL THE BAGS with food for the P2P pantries, and leave for your letter carrier, or P2P volunteer, to pick up on Saturday, May 14.
Over the last year P2P's food assistance program has provided enough groceries for more than TWO MILLION MEALS. We need the community's support to fill our pantries and provide our neighbors with healthy, nutritious food.
Over the last two years, P2P has distributed an astounding 78% more food through its food pantries in Darien, Norwalk, and Stamford and its Door2Door home delivery program.
The only way P2P can sustain this level of service is with support from our community with food donations and monetary donations.
All three P2P food pantries are collaborating with local post offices to help re-stock the P2P pantries, making it easy for all residents in lower Fairfield County to participate.
The need for food assistance has never been greater. The economic toll of the pandemic continues to impact residents in Fairfield County, leaving many of our neighbors struggling to make ends meet. Rising inflation heightens the financial struggle facing low-income residents.
"While it's great distributing the Stamp Out Hunger grocery bags the week before, it's even better picking up the bags on May 14th, full of food donations!" said Dominick Frattaroli, vice president of Branch 60 of the National Association of Letter Carriers, which is partnering with P2P in the food drive.
The Stamp Out Hunger Food Drive 2022 will be a significant contributor to re-stocking the P2P food pantries.
"We need everyone who is able to donate food on May 14 to do so," Coughlin said. "For many of the families we serve the food they receive at P2P is the foundation of their meals. Please help us make this year's Stamp Out Hunger the biggest yet with a generous donation of healthy food."