Workshop for Parents on Special Education Rights
Thursday,Nov, 15, 2018 @ 6:30 pm

-

8:30 pm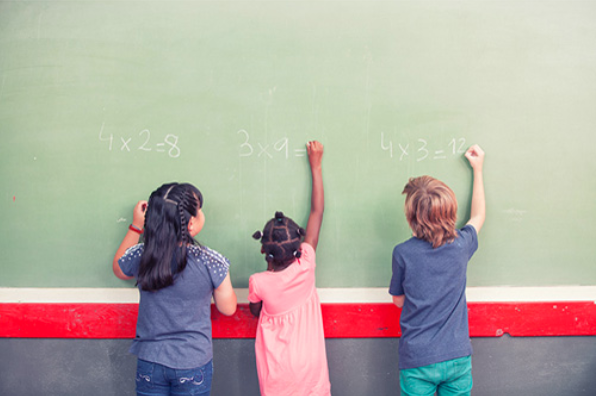 Westport Attorney Lawrence W. Berliner is presenting a workshop for parents with students in special education about what they need to know to navigate the special education maze and focus on what they need to know for the school year and beyond.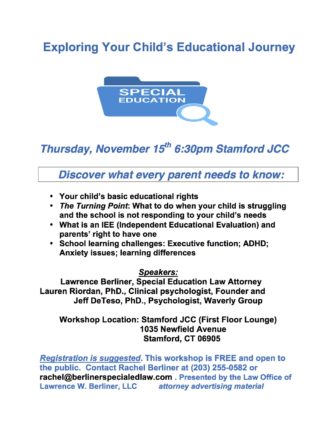 The workshop will be hosted and moderated by Berliner, with speakers, psychologists Lauren Riordan PhD., and Jeff DeTeso, PhD., The Waverly Group, Greenwich.
It will take place on Thursday, Nov. 15 at 6:30 p.m. at the Stamford Jewish Community Center, 1035 Newfield Ave., Stamford, CT 06905.
Berliner, Dr. Riordan, and Dr. DeTeso will help parents discover what they need to know about:
—Your Child's basic educational rights
—The Turning Point: What to do when your child is struggling in school and the school is not responding to your child's needs
—What is an IEE (Independent Educational Evaluation) and parents' right to have one and
—School learning challenges: executive function, ADHD, anxiety issues, and learning differences.
Parents are encouraged to bring questions and they will also receive valuable handouts.
Registration is suggested; to register and learn more about the workshop, please contact Rachel Berliner at: rachel@berlinerspecialedlaw.com or contact her at (203) 255-0582.
For more information, please visit Attorney Lawrence Berliner's website.
Related Events