'Truth & Consequences' Panel Discussion on Teen Drinking at DHS Auditorium
Tuesday,Feb, 7, 2017 @ 7:00 pm

-

9:00 pm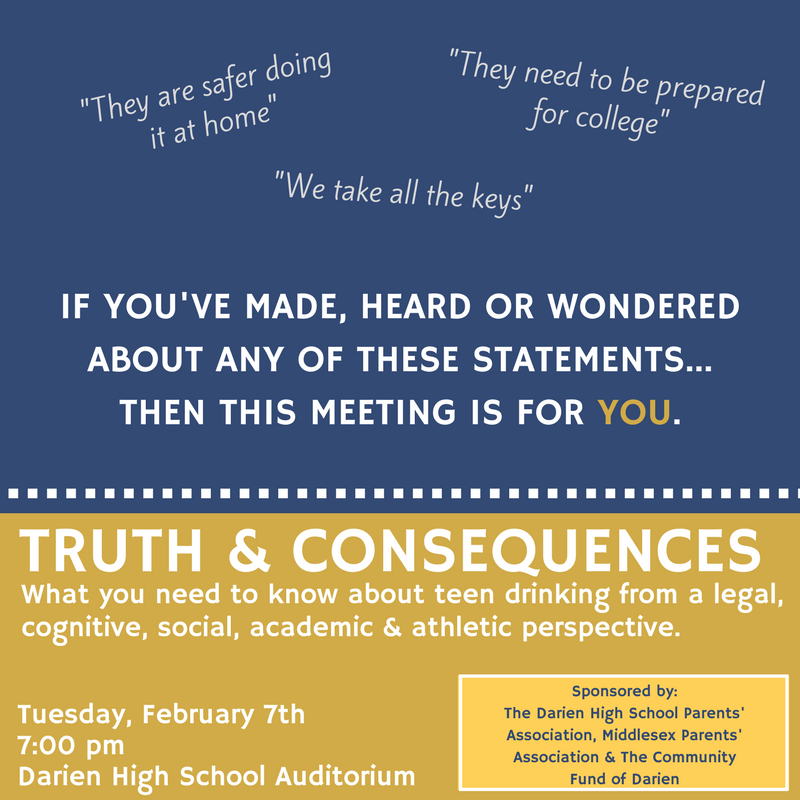 A panel of five area experts will speak at Darien High School on Tuesday night, Feb. 7, about teen drinking from the perspectives of the law and law enforcement, how it impairs teenage brains and athletic abilities and how Darien High School deals with drinking.
The meeting is for both parents and students.
The panel discussion takes place in Darien High School auditorium on from 7 to 8:30 p.m. (or 9 p.m., according to the Community Fund of Darien website) on Tuesday.
These panel members will be participating in the discussion:
Darien EMS-Post 53 Director Nancy Herling will discuss how Darien ambulance crews respond to intoxicated teens.
Darien Police Detective James Palmieri (until recently, the Police Department school resource officer at DHS) will discuss underage drinking trends in Darien from a police perspective.
Dr. Aaron Krasner of Silver Hill Hospital will talk about how alcohol affects the teenage brain.
Attorney Matthew Maddox of New Canaan will tell parents about the legal consequences of allowing minors to consume alcohol in your home.
DHS Principal Ellen Dunn will explain how the school deals with underage drinking.
Sponsors of the program are the Middlesex Parents Association, the Darien High School Parents Association and the Community Fund of Darien.
Related Events