Raveis Ride + Walk to Benefit Damon Runyon Cancer Center, Features the Wailers Band
Sunday,Sep, 30, 2018 @ 11:00 am
The Wailers, the legendary reggae band formed by the late Bob Marley, will perform at the fourth annual Raveis Ride + Walk, Sunday, Sept. 30 at Calf Pasture Beach in Norwalk.
The proceeds from this family-friendly event benefit the Damon Runyon Cancer Research Foundation, which funds the most promising scientists
conducting cutting-edge research to find a cure for cancer.
— an announcement from the William Raveis Charitable Fund
The Ride + Walk includes a 5K walk,  a 12-mile, 25-mile and 50-mile bike ride, and a children's 100-yard dash. The Wailers' special, 90-minute musical performance will begin at approximately 11 a.m. when riders and walkers have finished.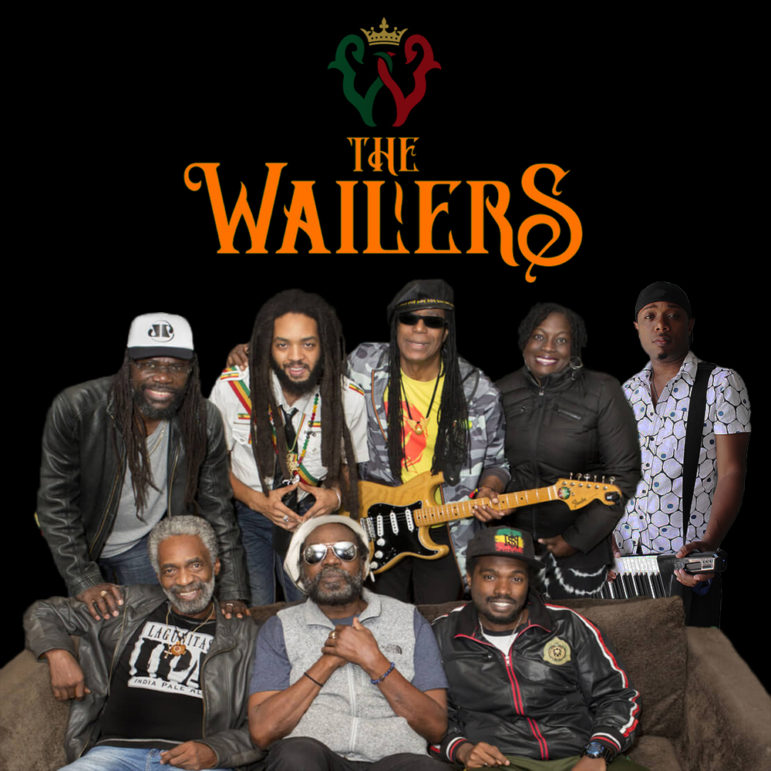 This marks the first time the community fundraising event will include a concert in their program.
"We are thrilled to welcome the iconic Wailers to our fundraiser this year," said Meghan Raveis, the managing director of the WRCF. "Every year we raise the bar with this event, and we hope more people will come out to support the Damon Runyon Cancer Foundation's innovative scientists, whether it be to ride, walk, enjoy the fun family activities or rock out to The Wailers."
Steered by famed bassist and founder Aston "Familyman" Barrett, and joined by the band's original guitarists Junior Marvin and Donald Kinsey, The Wailers continue to make musical history. Since 1981 when Bob Marley passed away after a four-year battle with skin cancer, Familyman and Junior have carried on his mission to keep The Wailers together.
"Bob Marley wanted us to continue performing because as he said, 'By doing that, you keep me alive through the music,'" said Familyman of The Wailers. "Cancer hit us close to home, so we'd like to think Bob would be even more touched we're performing to raise money for innovative cancer research."
There have been more than 250 million Bob Marley & The Wailers recordings sold, including 1977's "Exodus," anointed Best Album of the Century in 1999 by Time Magazine, and "One Love," named Song of the Millennium that same year by the BBC.
Spin Magazine listed Bob Marley & The Wailers at number four of the 50 Greatest Bands of All Times, while The New York Times named Bob Marley the most significant musician of the 20th century. These accolades were made possible by the creative, timeless, and distinctive music, lyrics and production by the incomparable Wailers musicians.
One hundred percent of the event proceeds will go to the Damon Runyon Cancer Research Foundation. Damon Runyon identifies the brightest early-career scientists with innovative research ideas and provides them with funding to pursue new ways to prevent, diagnose and treat all forms of cancer. In 2017, approximately 700 people participated and volunteered in the Ride + Walk, raising more than $519,000.
The Ride + Walk has raised more than $1.5 million since its inception. The money has been granted to 14 scientists who are researching eight different types of cancer. Since 1946, Damon Runyon has invested more than $340 million in more than 3,650 exceptional scientists.
Participants can register for the event now at RaveisRideWalk.com. The web site also includes fundraising tips and tools, information about the scientists, and photos and video from 2017.
The minimum fundraising amount for adults is $250 for the walk, 12-mile and 25-mile rides and $400 for the 50-mile ride. Minors under 17 must be accompanied by an adult and have a $25 fundraising minimum. There is a suggested minimum donation of $25 for people who would like to participate but not ride or walk.
About WRRE
William Raveis Real Estate, Mortgage & Insurance (WRRE), is the number one family-owned real estate company in the Northeast and the number eight real estate company in the United States, according to REAL Trends.
CEO/President Bill Raveis launched WRRE in 1974 in Fairfield; today, with 120 offices and 4,000 agents, Raveis says taking risks helped him grow a highly successful family business, which Damon Runyon Cancer Research Foundation's mission shares: They take risks on young researchers with big ideas and lofty goals.
About William Raveis Charitable Fund
Since its founding in 2004, the William Raveis Charitable Fund has raised nearly $4 million to support communities across the Northeast that are impacted by cancer. Their focus is on the advancement of cancer research and programs that offer cancer patients and their families' physical and emotional support during treatment.
In 2015, the fund partnered with the Damon Runyon Cancer Research Foundation, which provides young scientists with the funding to pursue their boldest, and most innovative ideas to prevent, diagnose, and treat all forms of cancer.
To date, Raveis has raised $1.5 million and funded 14 scientists with the William Raveis Charitable Fund Fellowships. To learn more and to contribute to the cause, please visit raveisridewalk.com.