Darien Library's Friday Night Feature is "Puzzle," a 2018 drama much praised by critics.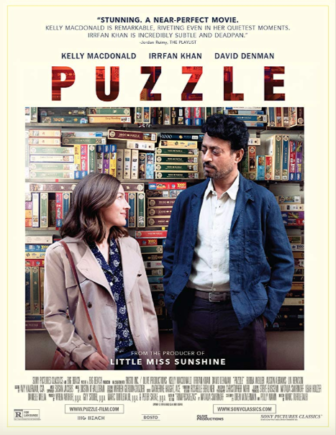 The library will have two showings: 6:30 to 8:15 p.m. and from 8:30 to 10:15 p.m.
From Darien Library's announcement:
"After years of concerning herself exclusively with the needs and wants of her husband and sons, Agnes has found something that she wants to do: puzzling.
"Stepping out of her domestic bubble to pursue her new hobby, Agnes meets Robert, a wealthy, reclusive inventor who recruits her as his partner for an upcoming world jigsaw tournament.
"Each day she spends out in the world takes Agnes further along on the road to a new understanding of herself.
"(2018) Kelly Macdonald, Austin Abrams, Mandela Bellamy, Myrna Cabello Rated R for language ; 103 minutes; Presented with captions for the hearing impaired."
A description from Sony Pictures:
"PUZZLE is a closely observed portrait of Agnes, who has reached her early 40s without ever venturing far from home, family or the tight-knit immigrant community in which she was raised by her widowed father.
"That begins to change in a quietly dramatic fashion when Agnes receives a jigsaw puzzle as a birthday gift and experiences the heady thrill of not only doing something she enjoys, but being very, very good at it."