'Good-bye, My Fancy' with Joan Crawford and Robert Young: NCC Film
Good-bye, My Fancy is the next film in the free NCC film series for winter/spring 2018, which will screen on Thursday, March 1 at 6:30 p.m. in the East Campus Forum Theater.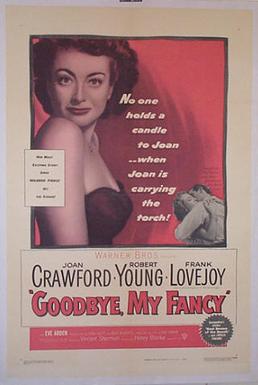 In an era loaded with films that featured roles for women that were complex, nuanced, and quite challenging, evidenced by the work of Elizabeth Taylor, Joanne Woodward, Barbara Stanwyck and Kate Hepburn, Good-bye, My Fancy features the immortal Joan Crawford in one of her best-ever roles.
__________
— an announcement from Norwalk Community College
__________
This little-seen film from 1951 was directed by the talented Vincent Sherman and features Crawford as a congresswoman who returns to her alma mater to receive an honorary degree.
Did I mention that her old boyfriend will also be there, who also happens to be the college president? Conflict, anybody? Oh, yeah.
The film co-stars include Robert Young, as the old beau, the always-annoying Frank Lovejoy, as a pain-in-the-butt newspaperman, and the always sassy and delightful Eve Arden as — Eve Arden.
Don't miss this entertaining and in some ways surprisingly progressive (when it's not being retrogressive) romantic drama from the not-so-fabulous fifties!
Editor's note: The main character appears to be a lot like U.S. Rep. Clare Boothe Luce, who represented Darien and other area communities in the House from 1943 to 1947, a few years before this movie was made.
The Walt Whitman Poem
GOOD-BYE MY FANCY!
Farewell dear mate, dear love!
I'm going away, I know not where,
Or to what fortune, or whether I may ever see you again,
So Good-bye my Fancy.
Now for my last—let me look back a moment;
The slower fainter ticking of the clock is in me,
Exit, nightfall, and soon the heart-thud stopping.
Long have we lived, joy'd, caress'd together;
Delightful!—now separation—Good-bye my Fancy.
Yet let me not be too hasty,
Long indeed have we lived, slept, filter'd, become really blended
into one;
Then if we die we die together, (yes, we'll remain one,)
If we go anywhere we'll go together to meet what happens,
May-be we'll be better off and blither, and learn something,
May-be it is yourself now really ushering me to the true songs,
(who knows?)
May-be it is you the mortal knob really undoing, turning—so
now finally,
Good-bye—and hail! my Fancy.