Edwin McCain Featured at Darien Foundation's 'Dixie in Darien' Party
Saturday,May, 6, 2017 @ 7:00 pm
$200
Bringing a little Southern flavor to town, the Darien Foundation will host a "Dixie in Darien" fundraiser on Saturday, May 6, showcasing a musical performance by Edwin McCain.
Featuring a Southern buffet dinner, the event will be a casual, down-home affair complete with a Bourbon Bar and award-winning Bill's BBQ — direct from Wilson, N.C. Following the dinner and a brief program and paddle raise, South Carolina native Edwin McCain will take to the stage at 9 p.m. for a private concert.
"For our annual benefit, we enjoy offering our guests a unique, private performance, whether it's a stand-up comedian or popular musician," said Pam Dysenchuk, Executive Director of The Darien Foundation. "We are thrilled to have Edwin McCain perform at our fundraiser this year and help raise awareness about our mission."
____________
— an announcement from the Darien Foundation
____________
The benefit will take place at 7 p.m., Saturday, May 6, at the Darien Community Association (DCA) Meadowlands, located at 274 Middlesex Road.
"Dixie in Darien" tickets are now on sale for $200 per person. To become an event sponsor, please contact Pam Dysenchuk at pam.dysenchuk@darienfoundation.org.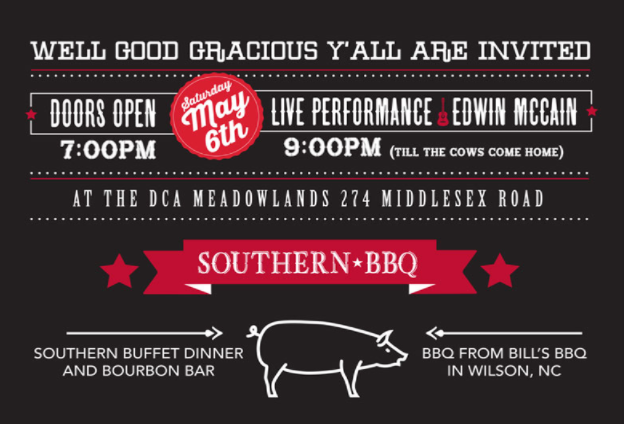 About Edwin McCain
Called the "great American romantic" by The New York Times, Edwin McCain has built an enviable 20-year career by balancing massive pop success with the year-round touring of a tireless troubadour.
His hit songs, authentic spirit and sense of humor keep fans coming back for nights that feel more like parties with old friends than rock concerts. After recording "I'll Be" and "I Could Not Ask for More" — two of the biggest love songs in pop music history — McCain has performed over 100 shows annually as a solo artist, with his band or acoustic trio.
On occasion he'll add orchestras, performing with symphonies and bringing powerful songs to new heights.
Recently, McCain's "Flipping Ships" TV show debuted on Animal Planet. Like his songs, Edwin's boats have a story; about the people who build them, his team who defies all odds to reconstruct them, and the families who take them home.
But his heart remains on the road. Once the "Flipping Ships" season ended, Edwin picked up his guitar and returned to the stage.
____________
Edwin McCain's website | on Facebook | on Youtube | on Instagram | on Twitter | on Wikipedia
____________
The Darien Foundation
The Darien Foundation is an independent, community based non-profit organization that is dedicated to providing grants for technology and capital initiatives in Darien, Connecticut.
The three pillars of funding are: Darien Public Schools, Darien Emergency Services and Darien Non-Profit Organizations. The Foundation awards grants for special projects that are beyond the funding capabilities of these groups and which will positively impact the local community.
As a 501(c)3, The Darien Foundation provides residents and corporate donors a centralized, convenient and highly effective channel for supporting our public schools, emergency services and community organizations.
The volunteer Board of Directors reflects the many constituencies of Darien, thoroughly evaluates grant requests and assists grant recipients in achieving their goals.
Related Events