Darien Sport Shop's 'Tropical Escape' Introduces Expanded Swimwear Dept.
Thursday,Mar, 30, 2017 @ 11:00 am

-

2:00 pm
Darien Sport Shop will host a Tropical Escape, the introduction of its newly expanded designer swimwear and accessories department Thursday, March 30 through Saturday, April 1.
The event will include complimentary beauty, fitness, spa and wellness treatments by Equinox Darien, Lanphier Day Spa & Salon of Darien, Pure Barre Darien and Zen Bronze Organic tanning.
The event will also include tropical drinks, DJ, gifts, raffles, special appearance by designer brands and more!  The event is sponsored by Melissa Odabash, Splendid, Tommy Bahama and Letarte.   All are welcome to attend!
The event includes the following lineup:
Thursday, March 30
EQUINOX
11 a.m. – 2:00 p.m.
Get your Goddess Beach Body! Complimentary eyebrow waxing, personal training and nutrition sessions.
Friday, March 31
PURE BARRE
11 a.m. – 12 noon
Join us for a complimentary Pure Barre Pop Up Class on the second floor!  Space is limited.  RSVP to marketing@dariensport.com
LANPHIER DAY SPA & SALON
12 noon to 2 p.m.
Complimentary spa treatments
Saturday, April 1
ZEN BRONZE ORGANIC TANNING
12 noon to 3 p.m.
Bronze on the Go complimentary face tanning
LANPHIER DAY SPA & SALON
2 to 4 p.m.
Beach hair braiding and styling
TIKI BAR!
1 to 5 p.m.
DJ and Frozen Tropical Cocktails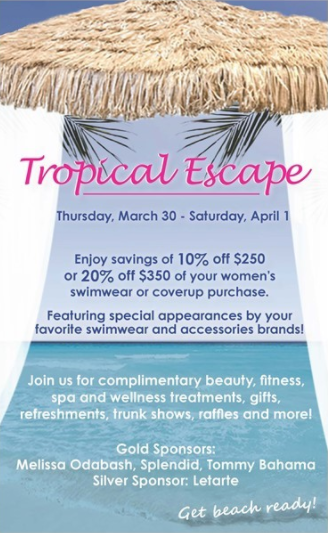 Editor's note: Darienite.com publishes event listings and sometimes articles on events that businesses host for free or for charitable purposes. Send announcements to Dave@Darienite.com.