Expect short-term delays and some detours Sunday, Sept. 11, along a short stretch of the Post Road and streets between it and Pear Tree Point Beach, as an expected 700 runners participate in the annual Darien Road Race.
Here's an announcement from Darien police about traffic delays and detours:
The annual Darien Road Race will be held on Sunday, September 11, 2016 at 1 p.m. The road race, hosting approximately 700 runners, will start at Pear Tree Point Beach and proceed to Long Neck Point Road, Rings End Road, Harbor Road, eastbound on Post Road, Old Kings Highway South, Andrews Drive, Red Coat Pass, Tory Hole Road, Sunswyck Road, Goodwives River Road, and back to Pear Tree Point Beach.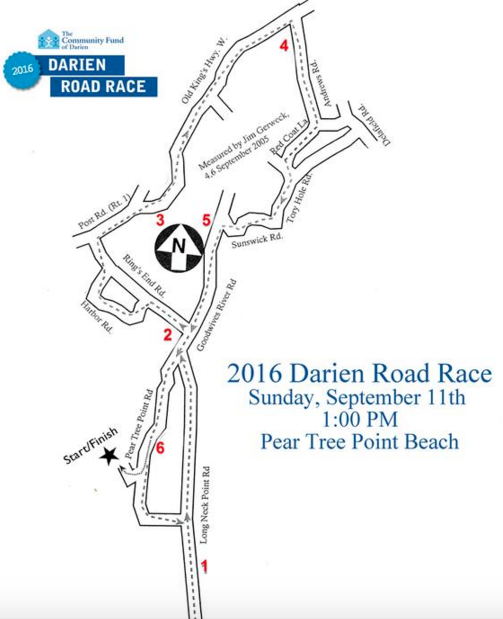 Motorists and residents of the area are advised to expect short term delays and detours along the race route. Officers will be positioned along the route to facilitate the flow of traffic and the safety of the runners.
Here's the announcement from the Community Fund of Darien that Darienite.com previously published, with some other recent information from the Community Fund:
The Darien Road Race is a beloved Darien community event celebrating its 37th year. The race route, which stretches along scenic waterfront roads, includes two events, a 10-kilometer (6.2 miles) and a 1.5 mile fun run called "The Loop." The 1.5 mile fun run starts at 1:00; the 10K starts at 1:30. Following each race, awards will be presented to the runners with the fastest finish times.
There is a pre-entry registration fee of $45. Race day late registration fee is $50 for individuals over 12 and $15 for individuals 12 and younger.
Runners can pre-register and pick up their T-shirts and numbers on Friday, Sept. 9 and Saturday, Sept. 10 from 9:00am-12:00pm at Runner's Roost, 25 Old Kings Highway North, Darien.
REGISTRATION IS NOW OPEN. SIGN UP NOW:  CLICK HERE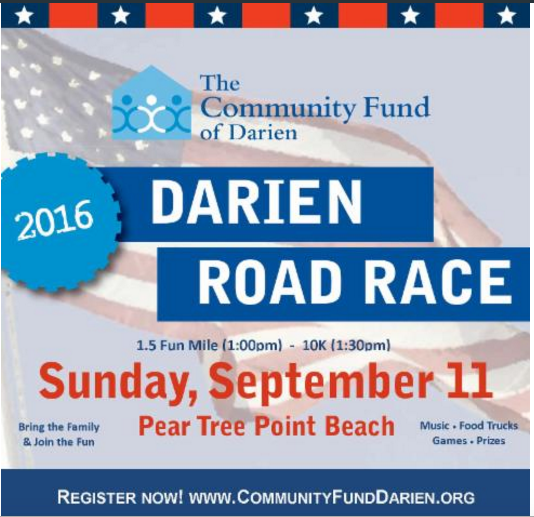 Parking at Pear Tree Beach is limited. Access to the beach and road will be closed at 12:30 p.m. or when the lot is full. Runners are advised to look for off-site parking or car pool.
TheDarien Road Race proudly supports The Community Fund of Darien and its mission to enhance the quality of life for our neighbors in Darien, Stamford and Norwalk.
The Community Fund of Darien is about people helping people, locally changing lives with investments of time, expertise and financial support.
We depend on individual donations and business sponsorships for support.
Since 1979, the race has raised more than $950,000 benefitting local non-profits in Stamford, Norwalk and Darien working to improve the lives of at-risk youth, families in need and those suffering from the effects of poverty, homelessness, hunger, mental illness, substance abuse, domestic violence, and more. Please run for a cause and help us raise money to support our neighbors in need.
Help support The Community Fund of Darien by supporting the 2016 Darien Road Race: Click Here
The 37th Annual Darien Road Race will feature two start times.
1:00 for the 1.5 family fun loop and 1:30 for the 10K Road Race
RUN FOR A CAUSE
This year, we will be raising money for four target causes:
The Community Fund Giving Categories
Eye on Darien: Darien Human Services, Promoting Philanthropy and Volunteerism for Youth and Adults

Basic Needs: Food, Shelter and Emergency Assistance

Self Sufficiency: Job Training & Mental Health Services

Youth Success: Academic Support for At-Risk Youth, Mental Health Services
Click Here to Join a TCF team and run for one of these great causes!
For more information check out the official Darien Road Race website.
Registration fees:
$45.00 ($50.00 on race day)
$15.00 for all children 12 and under
The first 400 registered runners will receive an official 2016 Darien Road Race t-shirt on race day.
Race Day Information and Directions
PRE-RACE ENTRY: Premium 2016 Darien Road Race t-shirts are given to the first 400  registrants.
PRE-RACE PACKET PICK UP: Check back soon for 2016 Darien Road Race Pre- Race Day information.
FINISH LINE TENT ACTIVITIES: A variety of local food trucks will be on location in the Pear Tree Beach Parking Lot for post race dining. The "finish line tent" will also include a variety of activities for kids of all ages. Bring your family and friends and plan to stay for an afternoon at the beach! There will be race-day fun under the tent with food trucks, music, games for the kids, pre-and post-race stretching, massage and more!
RACE DAY CHECK-IN AND REGISTRATION is at Pear Tree Point Beach from 10:30 AM to 12:30 PM SHARP. Cash, credit cards (MC or VISA only), or personal check made out to: Darien Road Race. PARKING at Pear Tree Beach is limited. Access to the beach and roads will be closed at 12:30 PM or when the lot is full. Look for off-site parking and please carpool. Additional parking will be available at a nearby school within a 5 min. walk from the starting line.
DIRECTIONS: I-95 Exit 10, go south on Noroton Ave. to US-1 (Post Road). Go east (left) onto US-1 one block. Then south (right) onto Ring's End Road, go over bridge, turn right onto Pear Tree Point Road. Stay right at fork, 1 mile to Pear Tree Point Beach.
AWARDS: Awards are presented to men and women in the following categories: 10K 1st, 2nd,3rd, overall and in age categories. All children 12 and under will be awarded finisher medals upon completion of the 1.5 mile "loop".