Darien police have announced "short-term" traffic restrictions during the annual Darien Road Race this Sunday morning, Sept. 18 in the area of Long Neck Point, Pear Tree Point, part of Tokeneke and a short stretch of Old Kings Highway South.
The race starts at 9 a.m., with about 500 racers at Pear Tree Point Beach. (If you want to join the race, you can register here.)
Streets along the 5-mile route are: Pear Tree Point Road, Long Neck Point Road, Goodwives River Road, Sunswyck Road, Tory Hole Road, Delafield Island Road, Red Coat Pass, Old Kings Highway South, Locust Hill Road and Andrews Drive.
You can see the streets on the map included with this article, which also shows "the loop." Also, you can see all but the last part of the route (along Pear Tree Point Road) in this Google Maps web page. created by Darienite.com.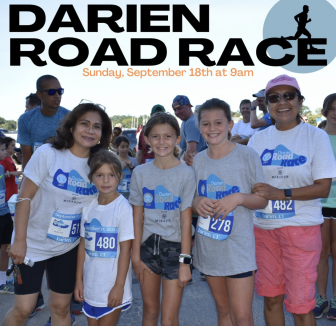 "Motorists and residents of the area are advised to expect short-term delays and detours along the race route," police said in their announcement on Monday morning.
Darien police will be posted along the route to ease the flow of traffic and keep runners safe. Boat launches from Pear Tree Beach will be suspended from 8  to 11 a.m.
The road race is the Community Fund of Darien's 42nd annual fundraiser for youth and family social service programs in Darien, Norwalk and Stamford.
"The Community Fund of Darien helps their local nonprofit partners provide vital youth & family programs and services — such as feeding children on free/reduced lunch programs over the weekend, mental health crisis response, birth-to-3 care, afterschool enrichment activities, and more," the organization says on its website.