The Darien Foundation has announced that tickets are now on sale for its Rock the Yacht benefit, which will be held on Saturday, April 27, at 6:30 pm at The Tokeneke Club.
This year's event is a twist on last year's very popular "Yacht Rock" theme, which drew nearly 400 guests. The evening will feature nautically-themed captain's cocktails, beachside hors d'oeuvres, gourmet dinner stations including a raw bar, lobster sliders, and other summer favorites, as well as sweeping views across the sound.
— an announcement from the Darien Foundation
The highlight will be a performance by Yacht Rock Revue—the band that has defined and popularized the Yacht Rock genre. Their vast playlist includes nostalgic covers of sing-along favorites like Africa, Dancing In The Moonlight, I Can't Go For That, Who Can It Be Now and Escape (the "Pina Colada" Song).
"Their playful, kitschy vibe invokes the feel-good of summers of the 70s and 80s," said Byrne Pozzi, Event Chair. "We'll be donning our retro yacht glam attire and dancing to flashback hits."
The music complements the seaside setting and yacht-like feel of the Tokeneke Club, which will host the gathering. "Tokeneke is the perfect venue to kick-off summer and the start of beach season," said Kerrie Kelley, Board Member and Fundraising Vice-chair. "It has that escapist feel that evokes yachts and ocean cruises."
One notable difference: this year's benefit will not have a live or silent auction. "We are so grateful for the support from our very generous sponsors that will allow our guests to enjoy the party without the interruption of an auction," said Kristin Peterson Edwards, fundraising chair.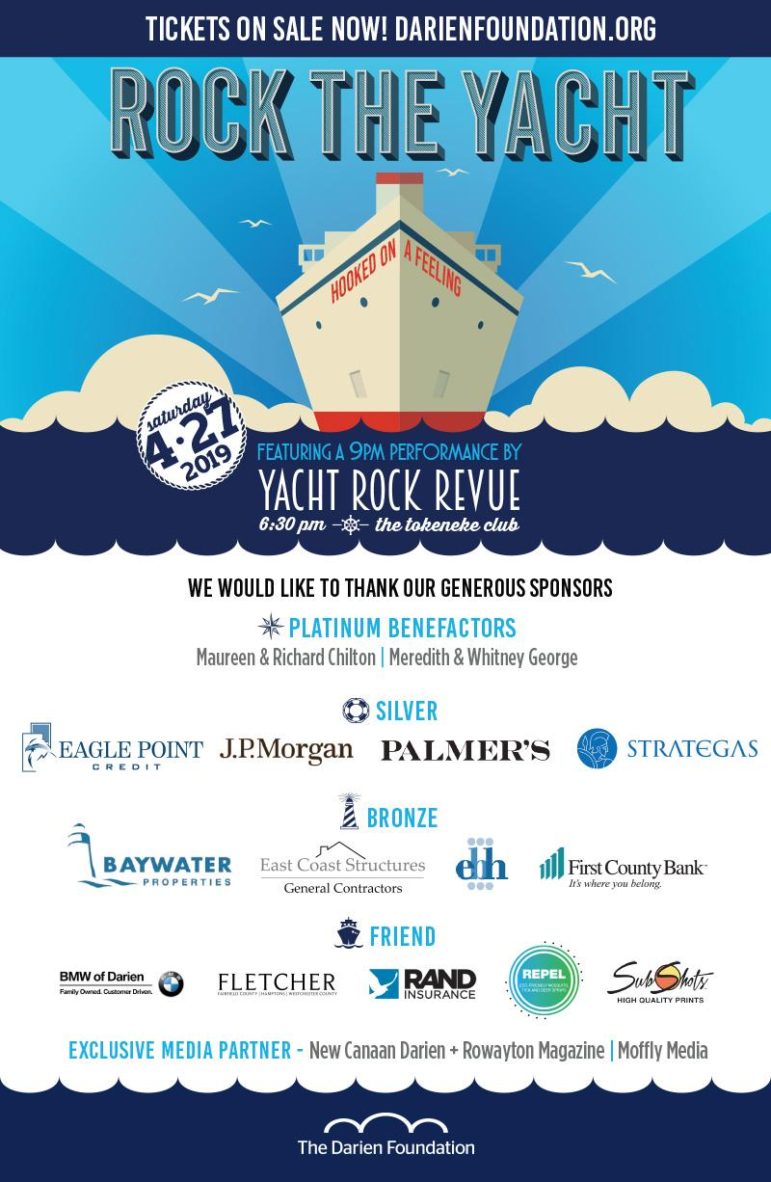 The Platinum Benefactors are Maureen & Richard Chilton and Meredith & Whitney George. Corporate sponsors include: Eagle Point Credit Company, J.P. Morgan, Palmer's Market, Strategas Research Partners, Baywater Properties, East Coast Structures, Eileen B. Hanford, First County Bank, BMW of Darien, Fletcher Development, Rand Insurance, Repel, and SubShots.
Since 1998, The Darien Foundation, a non-profit organization, has funded more than $4.2 million in grants for technology and capital initiatives which create opportunity for Darien's youth, support our town's safety and security services, and enhance the overall quality of life in Darien through collaboration with community organizations. Tickets are $200 per person ($100 is tax-deductible) and are available at www.darienfoundation.org. All proceeds will be directed to supporting grants awarded by The Darien Foundation.
The Rock the Yacht Benefit Committee includes: Byrne Pozzi (Chair), Kathy Arrix, Kesti Aysseh, Jessica Blouin, Margit Bluestein, Susanna Burns, Tiernan Cavanna, Marla Chandler, Kelly Clifford, Kerry Coppola, Kristin Peterson Edwards, Suzanne Flannery, Jennifer Foster, Courtney Galligan, Brooke Gies, Carol Glassmeyer, Michelle Gottfried, Nicole Harder, Jill Harvey, Elizabeth Hole, Anne Holmes, Cathy Jefferson, Lindsey Kaiser, Kerrie Kelley, Kristy Kennedy, Lisa Koorbusch, Keri McBride MacColl, Maggie Machir, Kathryn Mann, Hillary Miller, Janel Mitchley, Coren Moore, Jennifer Morici, Courtney O'Connor, Lindsay O'Donnell, Ariana O'Malley, Jaymie Pavolonis, Kristina Puff, Sherry Ramsay, Whitney Ranson, Julianna Spain, Lauren Swenson, Jenny Tarleton, Vail Weymann Vasisht, Medora Westcott