Darien Chamber of Commerce is organizing a "Chowder Challenge" for participants to both network and taste different chowders created by chamber members.
Get ready all you chowder lovers to come to Deane, Inc and their kitchen showroom.
— an announcement from the Darien Chamber of Commerce
Attendees not only will be tasting chowders but voting for the People's Choice Award. Along with the chowder tastings, refreshments are included — beer, wine and sparkling water, along with light hors d'oeuvres. There will also be a drawing with free prizes.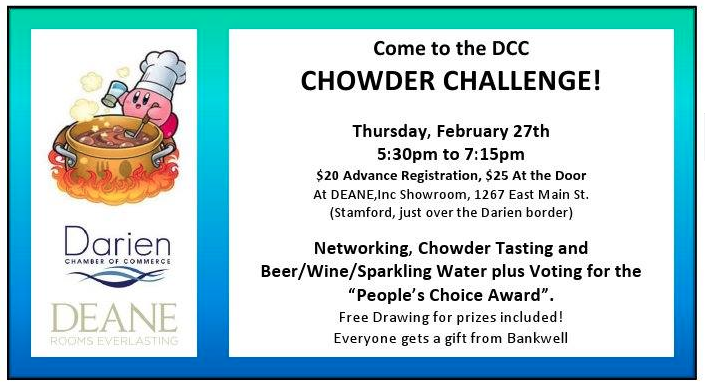 The event date (which had changed) is Thursday, Feb. 27, from 5:30 to 7:15 p.m. at Deane Inc., 1267 East Main St., Stamford (on the left, just over the Darien border on Route 1.
The event costs $20 for those who register in advance and $25 for registration at the door. You can register online, here.