On Friday, May 10, more than 130 guests gathered at the Country Club of Darien to celebrate the 10th Anniversary of At Home In Darien, and to honor a group of dedicated volunteers who had the foresight to establish an aging in place organization for Darien.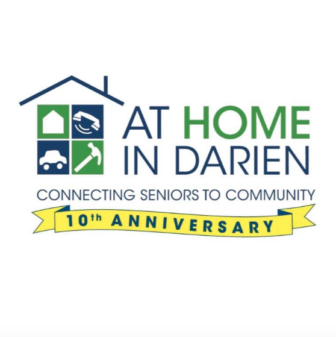 — an announcement from At Home In Darien
These honorees have provided leadership, support, and guidance and have significantly contributed to At Home's success. Kaye Barker, Peter Eder, Charlie England (In Memoriam), Olive Hauser, Diana Kalman, Wyn Lydecker, Ann Mandel, Anne McGuire and Pete Wright (In Memoriam) all endeavored over the past ten years to help make At Home In Darien the success it is today.
The Board of At Home In Darien would also like to thank their various sponsors: Blue Level, The Alden-Wright Foundation, First County Bank, and The O'Herron Family Foundation; Green Level, Belinda and Jim Metzger; Yellow Level, Atria Darien, Susan and Suresh Bhirud, Peggy and Jim Brown, Amy and Peter Harned, Healthcare Pathfinder, Nielsen's Florist, The Residence at Selleck's Woods, Tamsin and Tim Sickinger/Citizens Bank, and Robin and Richard Woods; and the Friends Level, Bankwell, Maplewood at Darien, OsteoStrong Darien, and Right at Home, Darien.
At Home in Darien is grateful for the support of these sponsors which will help ensure our continued success and will enable us to improve and expand our services.
At Home In Darien will also be hosting an informal town-wide celebration at Weed Beach on Sunday, Sept. 29 from 4 to 5 p.m. Park benches will be installed at town parks and dedicated to the 10th Anniversary Honorees.
The benches will be a reminder of our 10th Anniversary and will celebrate our volunteers who helped make this milestone possible. Everyone is invited to attend the event. Please call At Home In Darien at 203.655.2227 or visit the web site AtHomeInDarien.org to register or for more information.
At Home In Darien is a non-profit 501(c)3 organization whose mission is to help older adults in Darien to live independently, comfortably and with dignity in their own homes for as long as possible. For more information, or to volunteer, please call 203.655.2227 or visit the website.