The Rowayton Arts Center (RAC) is seeking original, handcrafted works from artists for the annual Holiday Gift Show, running between Thanksgiving and Christmas 2019.
— an announcement from Rowayton Arts Center
RAC will accept small ornaments and holiday-related items as well as jewelry, pottery and ceramics, candles, wooden toys and items, small furniture, knitted or crocheted items, fiber art, original cards and small prints or paintings.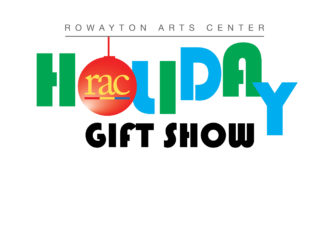 Receiving dates are Nov. 15 to 17, 2019. In order to participate, artists must sign up for a time to drop off their work. Please see the online prospectus.
The Holiday Gift Show, running from Nov. 29 to Dec. 24,  is a juried event, so items will be included at the discretion of the Holiday Gift Show Committee.
Proceeds from the Holiday Gift Show are used to support the RAC and its educational outreach.
Holiday Show Days and Hours
There will be a special preview night on Tuesday, Nov. 26 from 5 to 7 pm, with a $5 suggested donation that will be waived in exchange for canned goods going to the Open Doors Shelter in Norwalk.
Opening day is Friday, Nov. 29 from 10 am to 5 pm with extended opening weekend hours (Saturday, Nov. 30 from 10 a.m. to 5 p.m. and Sunday, Dec. 1 from 10 a.m. to 7 p.m. plus Monday, Dec. 2 from 10 a.m. to 5 p.m.). Regular hours for the show are Tuesday through Friday from 12 pm to 5 pm, Saturday and Sunday from 10 a.m. to 5 p.m. (closed on Mondays).
About Rowayton Arts Center
RAC celebrates the study, creation and appreciation of the arts through classes, exhibitions and events open to all in the community.
The gallery and art school overlook the scenic Five Mile River at 145 Rowayton Avenue with space for regional artists to exhibit their art and a classroom for workshops and classes at all levels offered to children and adults. Visit RowaytonArts.org and follow @rowaytonarts.