Hoping to make the holidays brighter for the Greens Ledge Lighthouse Preservation Society, local artist Peter Saverine will share some of the proceeds from the sale of his specially designed holiday ornaments and signed art prints to benefit the lighthouse restoration project.
Saverine's work will be featured at the Rowayton Historical Society Holiday Bazaar at Pinkney Park this weekend. On Sunday, Nov. 25, it will be open from 12 to 7 p.m.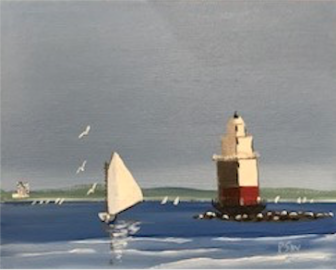 Likewise, special Greens Ledge ornaments and prints are available at the Rowayton Arts Center Holiday Show that runs now through Dec. 24 at Rowayton Arts Center at 145 Rowayton Ave.
Born and raised in Darien, Peter has lived in Fairfield County for most of his life.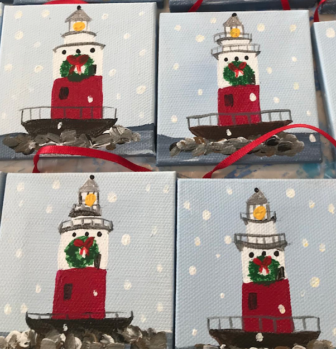 He is a self-taught artist whose bright seascapes capture familiar scenes along Long Island Sound and favorite spots in Nantucket and Cape Cod.
"I am drawn to lighthouses, sailboats and coastal scenes. The Greens Ledge Light caught my attention as a unique local treasure that has found some dedicated local angels to preserve it for future generations," Saverine said. "In a small way, I hope my artwork will help them gain some exposure and additional support."
Peter also authored and self-published a children's picture book about a mermaid at the Brant Point Lighthouse in Nantucket, entitled Jenny's Pennies — A Nantucket Tradition, that has sold over 10,000 copies and is in its fourth printing. Autographed copies of his books will also be available during the shows.
A graduate of Amherst College with a BA in Political Science, Saverine is currently the director of philanthropy at STAR, Inc., a non-profit organization serving our neighbors of all ages who have intellectual and developmental disabilities.

For almost 60 years, the Rowayton Arts Center (RAC) has been a community cultural hub providing an accessible environment for the exchange of arts-related ideas.
Greens Ledge Light is a historic lighthouse off the coast of Rowayton and Darien, Connecticut.
The Greens Ledge Light Preservation Society is a 501(c) 3 nonprofit that owns the lighthouse and has a mission to restore and preserve this historic landmark.