A food drive is taking place from 10 a.m. to 12 noon, Saturday, May 8 at the headquarters of Person-to-Person.
During the pandemic, the organization has had a 71% increase in its food assistance programs for the people it helps in Darien and the surrounding area, and it hasn't been able to use one of its biggest food donation programs, the Postal Food Drive, the organization said.
"We need your help to fill our pantries," P2P said in an announcement. "Please contribute to our Spring Food Drive this Saturday, start a virtual food drive, or donate to our food program. Thank you!"
The food drive takes place at P2P's headquarters, behind St. Luke's Church (1864 Post Road), at the corner of the Post Road and Rings End Road in Darien.
The announcement also said:
"This year's Stamp Out Hunger Postal Food Drive has been postponed due to the pandemic. P2P typically collects more than 68,000 pounds of food in this one day event, which is enough food for 55,000 meals."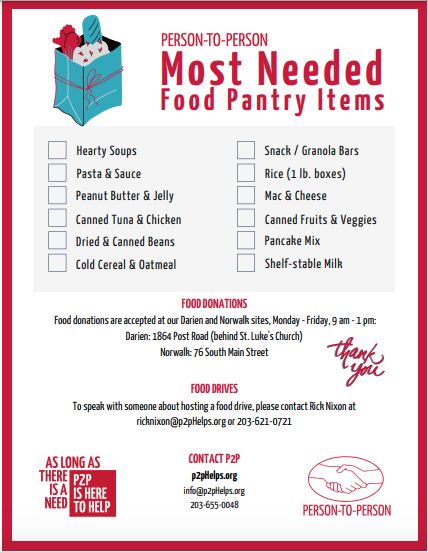 The announcement suggested these two other ways to help:
— Start a virtual food drive: Get support from your friends, family, co-workers and community groups to raise funds at this critical time. Setting up a virtual food drive is fast, easy and fun. Sign up here.