The Corbin District is teaming up with The Darien Chamber of Commerce to spread the joy of the holiday season again this year to support our local retailers. 2021 continues to be a difficult time for our local businesses and it is important to support our local shops.
— an announcement from the Darien Chamber of Commerce and The Corbin District
We have so many amazing businesses here in Darien, many of which are locally owned and operated, with incredible service and high quality and unique offerings.
This Instagram/social media initiative between The Corbin District and The Darien Chamber of Commerce will enable us to support our community businesses and at the same time thank residents and visitors who choose to shop locally. Welcome back, #Darientogether!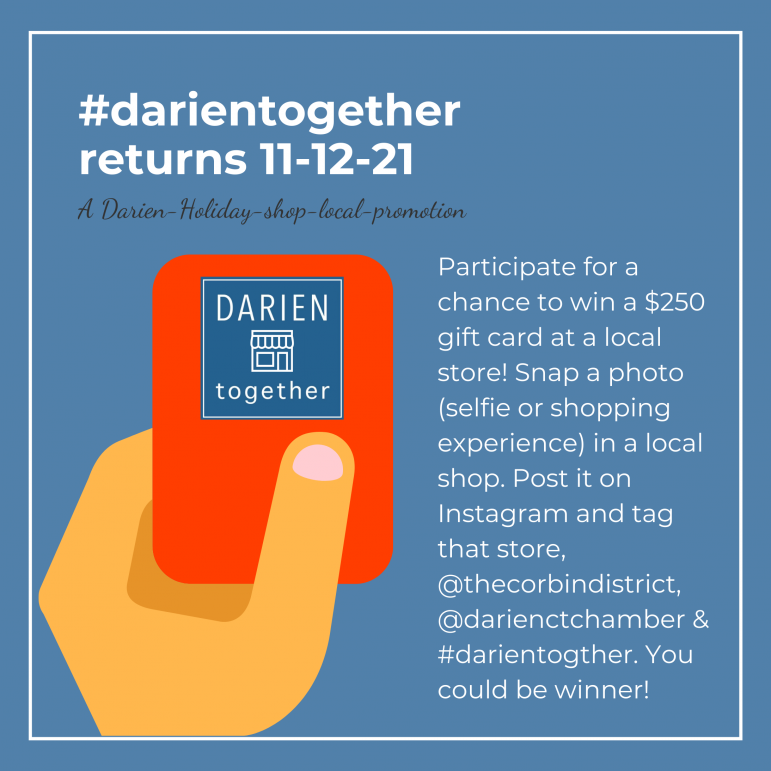 From now until Dec. 24, we will draw six winners per week to receive a $250 gift certificate that can be redeemed in our local shops and establishments.
The winners of the drawing will select the shop they wish to buy from. Entering is easy, all you need to do is snap a photo — a selfie in a local shop, of a beautiful display in a store, or a picture of the store where you made a purchase of your favorite find — then post it on Instagram and tag the store, @thecorbindistrict, @darienctchamber and #darientogether. You must follow @thecorbindistrict and @darienctchamber to participate and/or be notified to win.
The Darien Chamber of Commerce and The Corbin District will be offering over $9,000 in gift certificates over the six weeks to support our local business and to thank our community for shopping locally this year.
On Dec. 24, all participants will be placed in a season-ending drawing to win one night at The William Vale Hotel, Brooklyn, New York, one night at the Marram in Montauk, or one night at The Taconic Hotel in Manchester, Vermont.
Thank you to our campaign sponsors:
The Corbin District, Darien Sport Shop, Whim, Darien Running Company, Helen Ainson, Hollow Tree Self Storage, The Darien YMCA, Barrett Bookstore, Fjord Fish Market, Nielsen's Florist ,Williams & Co., Mirador, Cheryl Williams at COMPASS, David Harvey Jewelers, Sheree Frank at Houlihan Lawrence, Sipstirs, Everything is Rosey, HELP for Kids, A Little Something White, Posh Spa & Nails.
Contact:
The Darien Chamber of Commerce/Kesti Aysseh 203-655-3600