Registration is open for classes for all ages in dance, visual arts, martial arts, music and theatre at the Darien Arts Center. Winter/spring classes begin in January.
— an announcement from Darien Arts Center
To register for classes, visit the Darien Arts Center website or call (203) 655-8683. The DAC is located at 2 Renshaw Road, behind the Town Hall.
DANCE:
The DAC dance program offers students from the age of 3 through adults, the opportunity to train in one of the finest dance spaces in Fairfield County and to participate in multiple performances throughout the year. The DAC Weatherstone Studio converts to a black box performance space, giving DAC students the most performance opportunities in the area.
Winter/Spring classes begin Jan. 20, 2020.
Dance classes for all levels, ages 3 & up include Ballet, Jazz, Hip Hop, Teen Lyrical, Adult Lyrical Jazz, Teen Contemporary, Modern, Broadway Dance, Pop-Pilates Tap, and Pointe.
MARTIAL ARTS:
Classes are designed to hone fine motor skills and improve focus and self-discipline, while learning self-defense and having fun. Students have the opportunity to participate in a Spring Martial Arts Tournament and the Spring Concert.
Beginner/Intermediate Martial Arts, White-Blue, Monday, 4:00-4:45pm, Tuesday 5:30-6:30pm, Jan. 20 to Jun. 1
Advanced Martial Arts, Blue & Up, Tuesday, 6:30 to 7:30pm, Jan. 20 to Jun. 1 Open Martial Arts, Ages 8 & Up, Thursday, 6:15 to 7:15pm, Jan. 23 to May 28
Adult Martial Arts, Tuesday, 10:30-11:30am/Thursday, 7:15 to 8:15 p.m., Jan. 21 to Jun. 2.
MUSIC:
The DAC music program includes private lessons for guitar, flute, violin, voice, percussion, piano, cello, composition and music theory as well as group classes for both adults and children. Email Juanita@darienarts.org for private lessons.
New Group Piano for Beginners — Grades K-2 — Friday, 4-4:45 p.m., Jan. 10 to Mar. 20, $225. Students will be exposed to a musical "playground" and will be fully engaged with visual, auditory, and kinesthetic (feel/touch) activities while using electric keyboards.
New Sing! Sing! Elementary Group Voice — Grades 1–5 — Thursday, 5:30 – 6:15 p.m., Jan. 9 to March 19, $210. Through musical games and activities, students will learn proper vocal techniques while receiving an introduction to music literacy. The group will have an in class performance for parents.
Beginning Young Composers — Grades 3-5 — Saturday, 3 to 4 p.m., Jan. 11 to March 21, $168. Beginning composition students will learn the basics of writing music and compose simple pieces that explore specific parts of the compositional process. Guidelines for the Young Composers Program at the DPS will be adhered to.
Advanced Young Composers — Grades 5-12 — Saturday, 1:15 to 2:45 p.m., Jan. 11 to Mar. 14, $256. Student composers with more experience will work in a workshop setting, writing and critiquing each other's music and work on self-directed pieces, with the opportunity of recording them. Pieces may be submitted to the Young Composers' Program through the DPS.
New Beginning Jazz Band — Grades 5-9 — Saturday, 12 noon to 1 p.m., Jan. 11 to Mar. 21, $168. Open to all students in grades 5 to 9 currently playing a band instrument, piano, guitar, bass or drum set. Learn music in the jazz, pop and rock styles and develop skills in improvising, creating and performing original music in preparation for any audition for school jazz bands.
VISUAL ARTS:
Students practice in the spacious DAC Visual Arts Studio, and participate in various exhibits at the DAC and around town. New projects are planned for each session to accommodate new and returning students.
Cartooning — Grades 1-5 — Mondays, 4 to 5:30 p.m., Jan. 27 to March 9, $195. Work on aspects of character and story development in relation to 3 or 4 panel comics, 1-page story cartoons & graphic novels/comic books. Art Studio, Grades 1-5, Wednesday, 3:45-4:45 p.m., Jan. 22-April 22, $250. Create developmentally appropriate art projects using the elements of art. A variety of different media & techniques explored.
Digital Photography — Grades 5-8 — Friday, 4:40 to 5:40 p.m., Jan. 24 to April 24, $250. Students learn to use their digital device to capture amazing photos.
Drawing and Painting — Grades 5-9 — Wednesday, 5 to 6:30 p.m., Jan. 22 to April 22, $380. All levels welcome. The class includes traditional & experimental materials. Students draw figures, landscapes, portraits & still life as well as images from their imaginations.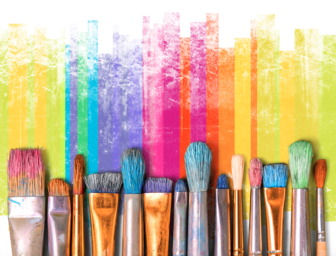 New Paint the Masters: Winter Break Vacation Camp — Grades 1-4 — Tu-Th, 12 noon to 2 p.m., Feb. 18 to 20, $210. Students learn about artists such as Picasso, Van Gogh, Da Vinci and more, and take what they learn to create their own masterworks based on the techniques and styles of the masters.
New Introduction to Fashion: Spring Break — Grades 5-8 — M-F, 10 a.m. to 1 p.m., April 6 to 10, $350. Students will be introduced to the art of fashion design and will learn about different materials and styles of clothing, using learned techniques to create their own piece of clothing.
Introduction/Intermediate Calligraphy — Adults — Mondays, 7 to 9 p.m., Mar. 2 to April 6, $295. This six-week course is geared towards beginners and those who have previous experience with calligraphy. No prior experience or skills necessary.
Adult Watercolor — Adults — Tuesdays, 9:30 to 11:30 a.m., Jan. 21 to March 31, $385. All skill levels welcome. Beginning students learn the fundamentals of watercolor painting, while more advanced students work on technique and composition.
Colored Pencil Drawing — Adults — Wednesdays, 9:30 to 11:30 a.m., March 4 to April 8, $255. Open to all levels. Fundamental techniques, color basics, layering, blending, surface textures, shading, composition background & creating atmosphere are covered.
Introduction to Digital Photography — Adults — Wednesdays, 7 to 8:30 p.m., Feb. 26 to March 18, $125. Learn the basics of taking beautiful digital photographs using iphones or digital cameras. Point & shoot techniques, photo-editing, uploading to a computer, using Instagram and social media to display photos covered.
Ladies Nights Out! Holiday Wreath Making Workshops — Adults — Friday, Dec. 6, 7 to 9 p.m. or Saturday, Dec. 7, 10 a.m. to 12 noon, $60. A festive wreath-making workshop! Wreaths & materials provided. BYO Wine & refreshments.
Ladies Night Out! Glass Jewelry Making — Adults — Thursday, Feb. 6, 7 to 9 p.m., $70. Learn the steps of the glass fusion process including glass cutting with Dorothy Hafner, award winning artist & designer. BYO wine & refreshments!
Ladies Night Out! Sip & Paint Van Gogh Sunflowers — Adults — Thursday, Mar. 12, 7 to 9 p.m., $45. Paint beautiful sunflowers based on the paintings of Van Gogh. A beautiful sunflower still life will be present. All materials provided, all levels welcome. BYO wine & refreshments!
Ladies Night Out! Sew it Up — Adults — Thursday, April 23, 6 to 9 p.m., $75. Design and create your own pajama pants & leave the workshop with your masterpiece! Materials & sewing machines provided. BYO wine and refreshments!
THEATRE:
Telling Stories Together — Toddlers to Kindergarteners — Fridays, 9:30 to 10:15 a.m., Jan. 24 to March 12, $200. Connect with your child in a new way and see them grow by acting out stories! This is a jam-packed session full of fun, dressing up & dancing.
Kids in the Cast — Grades K–2 — Thursday, 4 to 5 p.m., Mar. 26 to May 21, $225. This theatre skill building class will be fun for the first-time performer and the child who has done this 10x! Students experience theatre games, improv & acting exercises that help them approach scene work, songs and musical theatre dance.
Elementary Musical One-Act -The Magical Land of Oz — Grades 3-5 — Auditions Feb. 8, Rehearsals Feb. 29 to April 25, May 2 & 8 Tech rehearsal, May 9 Dress & performance, $385. This first-ever DAC performance opportunity for 3rd-5th graders offers young artists the chance not only to perform, but also to hone their skills as actors. Participation based on an audition scheduled by emailing Maria Pizzarello at maria@darienarts.org.
Middle School Musical One-Act — Grades 6-8 — Auditions Feb. 29, Rehearsals March 7, 14, 21 & 28, April 4, 18 & 25, May 1 & 2 Tech rehearsal, May 3, Dress & performance, $385. This is an audition-based program and roles are limited. Participants will be expected to meet deadlines and be proactive members of the cast. To schedule your audition, email Maria Pizzarello at maria@darienarts.org.