Person to Person (P2P),  has launched a special St. Valentine's Day fundraising campaign, "Honey 4 Your Honey," offering Darien residents delivery of a one-pound jar of raw honey from a Darien apiary.
A P2P announcement says the "Honey 4 Your Honey gift bundle" includes the limited-edition honey bundled with a custom card "to show your honey that you were meant to bee." All proceeds to benefit P2P and its mission. The cost is $50.
The local honey was produced and donated by a beekeeper from Darien's Corbin Farm apiary. The Corbin District is a sponsor of the campaign.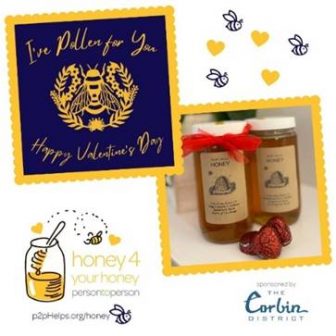 "The work P2P does to support our community is tremendous, and this campaign creates a wonderful way for our Darien neighbors to contribute — and get some amazing local honey produced right here at Darien's Corbin Farm," said David Genovese, co-developer of The Corbin District and CEO of Baywater Properties.
Due to logistics, honey deliveries can only be made in Darien. For people outside the delivery area, bundles may be purchased and picked up at P2P at 1864 Post Road in Darien on Feb. 14.
Or, you may send your honey a virtual Honey 4 Your Honey Valentine's Card. All options benefit P2P and support our mission! Quantities of honey are limited to the first 100 orders.
Order or Find Out More Here

Complete details, including cost and ordering, may be found here.
About Person to Person
Person to Person is a non-profit agency dedicated to providing individuals and families with essential resources to help them overcome daily challenges and put them on a path toward economic stability.
P2P serves 28,000 residents in Fairfield County with the following programs: three food pantries (Darien, Norwalk, Stamford), clothing center, caseworker assistance, emergency financial assistance, and scholarships/camperships.
Established in 1968, P2P serves people in Darien, New Canaan, Norwalk, Stamford, Weston, Westport and Wilton.
_____________________________
SIDEBAR: Honey and Health
Darienite.com looked up what the Mayo Clinic website, a reliable source for health information, says about using honey for health purposes. ("The Honey 4 Your Honey" campaign doesn't make any claims about health and honey.)
One claimed health benefit that some people follow is eating local honey to help fight allergies. An expert on the Mayo Clinic website doesn't buy it:
"Can Honey Lessen Seasonal Allergy Symptoms? Probably not," wrote James T C Li, M.D., Ph.D., in a December 2020 post on the website. "Honey has been anecdotally reported to lessen symptoms in people with seasonal allergies. But these results haven't been consistently duplicated in clinical studies."
However, the website also says there are intriguing studies that suggest there could be health benefits: "Honey is generally safe in adults and children older than age 1. It might be helpful in treating burns, coughs and possibly other conditions." The short website article describes in a bit more detail what the studies purport. Each time, however, the website uses the words "might" or "studies suggest."
The same article warns against giving honey to infants: "Avoid giving honey — even a tiny taste — to babies under the age of 1 year. Honey can cause a rare but serious gastrointestinal condition (infant botulism) […]"
Even for adults, "Some people are sensitive or allergic to specific components in honey, particularly bee pollen."
The honey sold in the P2P campaign is "raw." According to the Mayo Clinic (in a 2016 article on its website), raw honey isn't a health risk: "Foodborne pathogens actually do not survive in honey, so there is no additional risk in consuming it raw. […] 'Pasteurization' of honey actually has no technical meaning, and heating honey doesn't provide any food safety advantage."
In an interview (published in October 2020) on the Cleveland Clinic website, registered dietitian Mira Ilic, MS, RDN, LD. recommends raw honey:  "'Raw honey is the least processed and probably has the most antioxidants,' Ilic says. Despite its raw status, it's considered safe to eat except for children younger than 1, who should avoid all honey."