Every year, the Depot Youth Center provides balloons that graduating seniors find outside (see below for details), but two other ways of celebrating graduating students are also happening this year, when the pandemic can threaten spirits and will certainly change the traditional commencement event.
First, An "adopt-a-senior" program for families with elementary and middle school students has been started where those families drop off "a homemade card or sign, a flower from the yard, or a small token at the student's home," according to an announcement in the Middlesex Parents Association newsletter.
Families who sign up are assigned a student and given an address (in an email to be sent next week). The dropoffs are supposed to take place anytime in the five-day period from June 1 to 5. (See the announcement below.)
Second, Middlesex Middle School parents can order a yard sign from the Depot for graduating 8th graders who are going on to high school next year. The yard signs are expected to be placed on lawns by June 10. (See the announcement poster at the bottom, with the online link for ordering.)
DETAILS, DETAILS …
Balloon Bouquets for Seniors
You can order here (ignore the "Click anywhere to order" in the poster below — it's a copy from the Depot website).
DEADLINE TO ORDER: JUNE 5
Update, 12:31 p.m. — An announcement from the organizers, with additional information:

We know this year is different and some many things are not as expected.  Traditions are important so The Depot will still have balloons for seniors.
Parents or loved ones can order a special graduation balloon bouquet for a member of the Darien High School Class of '20
The Depot will do the work! Each bouquet contains three inflated 18-20 inch Mylar balloons — The Depot salutes our DHS grads, Class of 2020 and a silver star.
Bouquets will be delivered and tied to your graduate's mailbox by noon on the morning of "graduation,",Tuesday, June 11. Order deadline is June 5.
The cost is $30 per bouquet. All proceeds benefit The Depot. Place your order at www.dariendepot.com.
Questions: Christine Popson ChrisPopson@yahoo.com or Alex Taylor alexandfamily4@gmail.com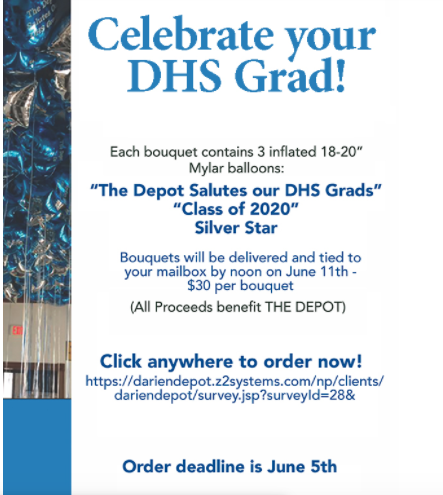 Adopt a DHS Senior
Here's the announcement, as we saw it in the Middlesex Parents Association newsletter on Friday morning, May 22:
Looking for a fun activity your family can do together? The Darien High School Parent Association (DHSPA) invites you to participate in their Adopt-A-Darien High School Senior Week and brighten a graduate's day!
The tribute, scheduled to take place from Monday, June 1 through Friday, June 5, offers an opportunity for elementary and middle school families to show support for members of the DHS Class of 2020.
Families who choose to adopt a DHS Senior are asked to drop off a homemade card or sign, a flower from the yard, or a small token at the student's home anytime during the five-day period. You will be notified by email of your match next week.
[To participate, please look at your school parent teacher association newsletter or mailing or contact that organization. Here are links to their websites.]
Please note that this project is based on a first-come, first-served basis and families and DHS seniors will be randomly matched.
Any questions? Send an email to: adopt.a.dhs.senior@gmail.com
Signs for Middlesex Grads
Here's the Depot online poster. And here's the link to the order Web page (this image a copy from the Depot website, so "click anywhere to order" doesn't apply here).
DEADLINE TO ORDER: MAY 29