Make a difference, save a life! You can sign up today for one of Darien YMCA's upcoming lifeguard courses and be certified in time for summer.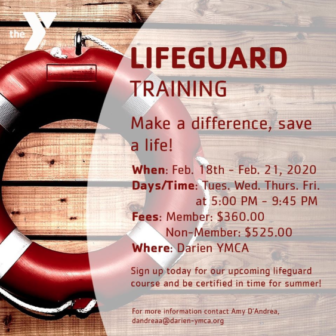 — an announcement from the Darien YMCA
The Darien Y offers the most up-to-date and nationally recognized American Red Cross Lifeguard Training program.
The course content and activities prepare lifeguard candidates to recognize emergencies, respond quickly and effectively to emergencies, and prevent drowning and other incidents.
Certifications included in this class include:
CPR/AED for the Professional Rescuer (valid for 2 years)
First Aid (valid for 2 years)
Lifeguard Training (valid for 2 years)
Lifeguard Certification (please click date for details)
Fee for Lifeguard Certification: $360 Members, $525 Non-Members
Class Availability: 2019-2020 Dates
February 18-21 — 5 to 9:45 p.m.
April 6-9 — 5 to 9:45 p.m.
May 11-14— 5 to 9:45 p.m.