This year's comedy fundraiser for The Undies Project will take place in a holy setting in the cause of diminishing  the number of holey underpants.
— an announcement from The Undies Project
You will not want to miss The Undies Project's fundraiser "Hilarity for Charity," returning this year to an in-person event.
"Hilarity for Charity" will take place at 7 p.m., Saturday, Sept. 10 at the First Presbyterian Church of Stamford, (aka the "Fish Church") located at 1101 Bedford St.
You can expect to enjoy hors d'oeuvres and desserts by Aux Délices, an open bar with an event specialty cocktail, a magnificent silent auction and of course many laughs.
This seventh annual Fundraiser event will be bigger and better than ever. We are planning a special night with comedian Christine Hurley who is known as the "Queen of Boston Comedy!"
About Christine Hurley and Emcee Kim Berns
Married to her high school sweetheart (Jimmy Hurley) and raising five kids, Christine is never at a loss for words and comedic content of "everyday life!"
She has appeared on Nick-At-Nite "Search for America's Funniest Mom," Season 9 of the Food Network's "Great Food Truck Race" and many local television shows in the Boston area.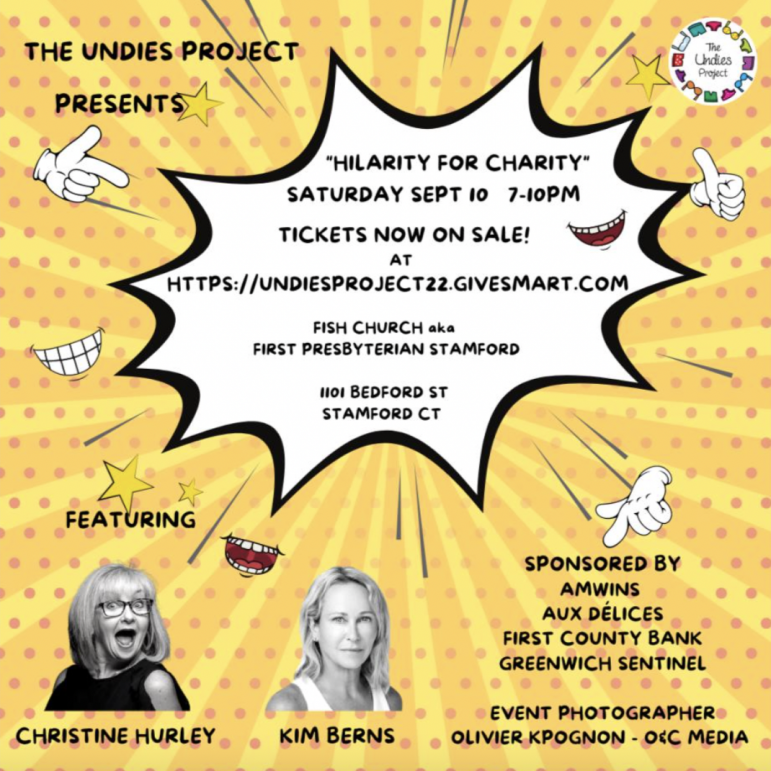 Christine performs regularly at the Tropicana in Las Vegas, Aruba and Atlantic City venues! Christine Hurley is one of the most sought after stand up comedians performing at every club, fundraisers and corporate events in New England.
Kim Berns will bring extra flair and comedy to "Hilarity for Charity" this year as emcee for the evening. Kim is a radio host and podcast host of "What's the Story?"and "Cook and Comic" on I-Tunes and Spotify. She is a stand-up comic in New York City and produces, writes and emcees various charity events throughout the country.
Back by popular demand is renowned photographer Olivier Kpognon of O & Co Media.
The Cause
The mission of The Undies Project is to provide new underwear to men, women and children in need to improve their lives.
Funds raised at "Hilarity for Charity" will go towards purchasing new underwear to donate to the 41 organizations that The Undies Project currently supports throughout Connecticut and New York who serve those who are homeless, living in shelters or who are on a low income.
Tickets are on sale online, here.
A silent auction will go live Sept. 3.
For more information visit The Undies Project website or contact The Undies Project at Info@theundiesproject.org.
"Hilarity for Charity" is generously sponsored by AMWINS; Aux Délices; First County Bank; Greenwich Sentinel and Friends of The Undies Project.