The town's 2020 Bicentennial Committee is hoping to spread the news about the town's 200th Birthday next year and will share information about the plans during a forum at 11 a.m., Thursday, Nov. 21 at Darien Library.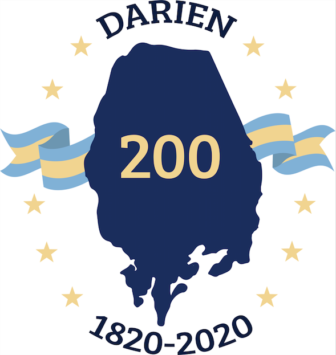 — an announcement from the Darien 2020 Bicentennial Committee
"These outreach efforts are intended to inform and get folks excited for the town's 200th birthday year," said First Selectman Jayme Stevenson.
"We want to encourage both residents and businesses alike to support Darien's official events and to discover ways that town organizations can participate and promote their own Bicentennial celebrations."
In addition to holding public forums, a brochure detailing town-wide events will be mailed to all Darien addresses in late December.
The colorful brochure, which features current and historic photos from around town, was designed by Jaymie Pavolonis, a graphic designer who worked with the official logo and color scheme created by Darien High School students Charlie Callery, Will Henry Harmon and Kelly Niederreither.
"With these public forums and mailers, we are hoping it will prompt people to not only reserve these special town events on their 2020 calendars, but also encourage residents to learn more about contributing to these events so that Darien can celebrate its birthday in style," said Al Miller, chairman of the 2020 Bicentennial Committee.
Check donations may be made out to Town of Darien, and please include "2020 Bicentennial" in the memo line of the check. Checks may be mailed to Darien Town Hall, 2 Renshaw Road, Darien, CT 06820 and include ATT: 2020 Bicentennial on the envelope.
To participate, volunteer or donate visit www.darienct.gov/2020 or email info.darien2020@gmail.com.
Town of Darien 2020 Bicentennial Events
Bicentennial Opening Ceremony
Friday, Jan. 10 at 7 p.m. (Doors open at 6:30 pm)
Snow Date: Jan. 11 at 2:30 p.m.
Town Hall Auditorium, 2 Renshaw Road
Weed Beach Festival's Bicentennial Bash
Saturday, June 6
Anniversary Day
Friday, June 12
Slawson Cemetery, Hanson Road
Heritage Day Celebration
Saturday, Oct. 24
Darien Historical Society & Mather Homestead