A free, family-friendly "Parade Spectacular Park Party" with giant parade balloons, entertainment and photos with Santa, will take place throughout Mill River Park in downtown Stamford this coming Sunday afternoon, Nov. 21.
The party is a replacement for the city's traditional giant balloon Thanksgiving parade, which was also cancelled last year.
The event, from 12 noon to 3 p.m. (but will "loop, in hour-long segments" according to this report in the Stamford Advocate) is sponsored by the Stamford Downtown Special Services District, which has been sponsoring downtown holiday events for decades. No tickets or pre-registration is required.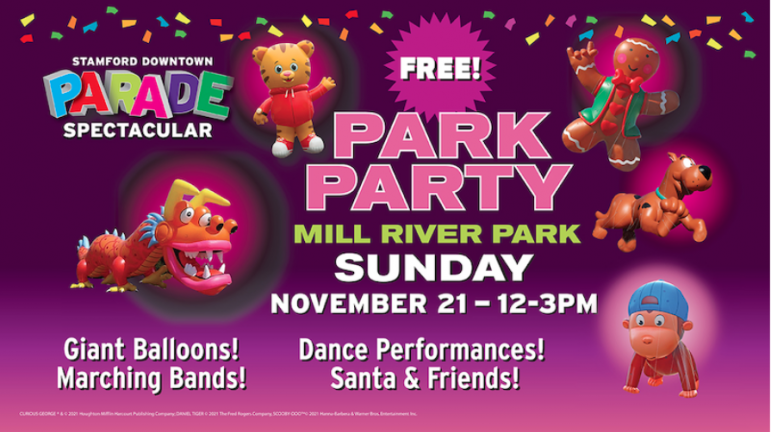 "Join us at a family-friendly event designed to safely accommodate an audience of young and old," the district says in an announcement. "The event will feature giant helium balloons, Cirque-tacular aerialists, photos with Santa and Friends and more."
The performance schedule features local marching bands and dance groups, including:
—Flippenout Extreme Trampoline
—Center Stage Dance Studio
—Hoop Girls
—Locust Performing Arts Center
—The Pulse Performing Arts Studio's nova jazz
—Stamford High School Marching Band
—Westhill High School Marching Band
Organizers say the event has been planned "in close consultation with public health officials and community leaders."
Also Coming to Downtown Stamford
On Dec. 5, starting at 5 p.m., the "Heights & Lights" event will take place, with Santa, some other Christmas characters as well as Darien resident Brian Cashman, the general manager of the Yankees, rappelling down the 22-story Landmark Square building.
The event continues with a fireworks show, and a march up Bedford Street to Latham Park, where Stamford's "Holiday Tree" will be lit and holiday music will be played.