Darien High School graduate Matthew Gentile will be awarded the Outstanding Eagle Scout Award from the National Eagle Scout Association on Sunday at the Andrew Shaw Memorial Scout Cabin.
Gentile is an engineer with NASA's Jet Propulsion Laboratory and is part of the Mars Rover Mission team. He was a scout in Troop 35 Darien when he became an eagle scout in 2010.
— an announcement from Darien Scouts
The award is granted to eagle scouts who have distinguished themselves in their life's work and have shared their talents with their communities on a voluntary basis.
Only a couple of these honors are awarded from each Boy Scouts of America Council. Gentile was nominated by the Connecticut Yankee Council and the BSA. BSA's national office selects the recipients.
Launched July 30, 2020, the Mars Rover seeks signs of ancient life and collects samples of rock and soil for a return to Earth. The mission has had many successes.
Gentile's primary assignment was working on the turret, part of the rover's robotic arm housing the core-drilling tools. He also was the Close Clearance Engineer for the spacecraft, identifying and measuring 200-plus clearances on the vehicle to ensure components did not contact unexpectedly during launch and entry.
Gentile also is assigned to the Europa Clipper Mission. Europa is a satellite that will perform dozens of flybys of one of Jupiter's moons, Europa, to see if it has the potential for life.
Gentile received his Masters of Engineering with a focus in system engineering and a Bachelor of Science in Mechanical and Aerospace Engineering at Cornell University. He was active with Troop 35 until graduating Darien High. Since then, he has providing program and merit badge instruction with Crew 353.
During the Covid-19 stay-at-home order, Gentile participated in the Powahay District's Zoom STEM Camporee, providing a unique perspective to Space Exploration Merit Badge.
The ceremony takes place  at 2 p.m., Sunday, Nov. 21, at the Andrew Shaw Memorial Scout Cabin, 140 West Ave.
The ceremony also will include a special award presentation honoring adult eagle scouts that provide leadership to Darien scouting troops and packs or through the Andrew Shaw Memorial Trust and Scout Cabin operating board.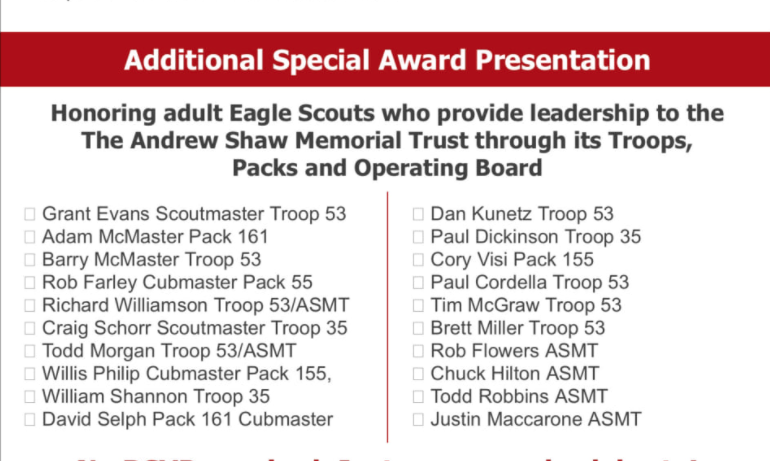 Recipients include Grant Evans, Scoutmaster Troop 53; Adam McMaster, Pack 161; Barry McMaster, Troop 53; Rob Farley, Cubmaster Pack 56; Richard Williamson, Troop 53 and the Andrew Shaw Memorial Trust; Craig Schorr, Scoutmaster Troop 35; Todd Morgan, Troop 53 and Andrew Shaw Memorial Trust; Willis Philip, Cubmaster Pack 155 and Assistant Scoutmaster Troop 219; William Shannon, Assistant Scoutmaster Troop 35; David Selph, Pack 161 Cubmaster; Dan Kunetz, Troop 53; Paul Dickinson, Troop 35; Cory Visi, Pack 155; Paul Cordella, Troop 53; Tim McGraw, Troop 53; Brett Miller, Troop 53; and Chuck Hilton, Andrew Shaw Memorial Trust.