UPDATE, 3:22 p.m. — Darien Library is closing two hours early, at 4 p.m., Friday, "due to inclement weather," the library said in an announcement.
As of 3:07 p.m., according to Eversource, 18 of their customers in Darien were still without power.
In an announcement, the utility said:
"Hundreds of Eversource line and tree workers, supported by utility crews from as far away as Texas, Michigan, Indiana and Ohio, are working to restore power following Tropical Storm Elsa.
"As of 3 p.m., more than 13,000 customers have had their power restored since the storm began, while crews are working to address the 6,000 outages currently on the system.
"'The storm has delivered the expected heavy rains, further saturating grounds that were already soaked from this week's thunderstorms, and we have the possibility of some more thunderstorms tonight,' said Craig Hallstrom, Eversource president of regional electric operations.
"The company reminds customers to always stay clear of downed wires, report them immediately to 9-1-1 and to be cautious when doing their own storm clean up — be careful moving or cutting tree limbs and look for any wires that may be entangled in debris.
"Additionally, customers who are without power and using a generator should be sure the generator is located well away from their home or business and that the transfer switch is working properly."
UPDATE 1:34 p.m. — The rain may be over, but numerous spots around town are still flooded, and drivers should not try to drive through them.
Here's a list of spots around town still flooded or now open, as of 1:30 p.m., from Darien police: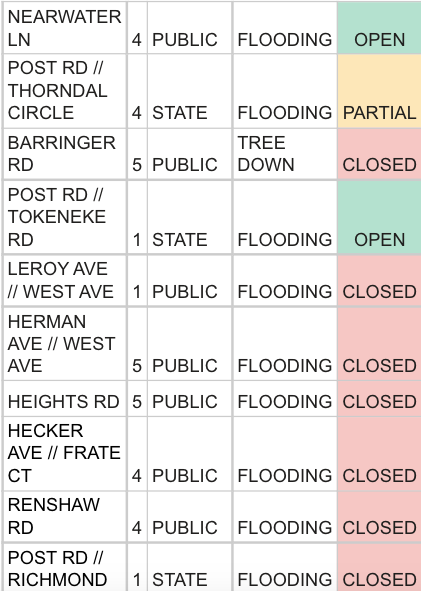 UPDATE, 1:22 p.m. — Eversource reports 18 customers still without service as of 1:17 p.m.
UPDATE, 1:07 p.m. — Darien on Friday morning was hit by "flooding of historic proportions," with 6.25 to 7.5 inches of rain coming down in a four-hour period, First Selectman Jayme Stevenson said in a tweet.

The National Weather Service reported 12-hour rainfall totals of less than that in neighboring Stamford, but those totals were measured somewhat earlier — 5.12 inches at 10:45 a.m. from one Stamford location and 3.42 at 10:48 a.m., from another.
At 1:01 p.m., Metro-North reported that New Haven Line rail service was operating on or close to schedule.
Original article (published at 9:42, with additional information later): "Flash Flood Warning Issued: Numerous Darien Roads Flooded and Impassable":
Numerous Darien roads are flooded and impassable, Darien police say, as the National Weather Service issues another Flash Flood Warning.
"We are in the process of removing occupants from flooded vehicles," police said in a Facebook post. "Please avoid areas of small streams and rivers and do not drive if not necessary.
At 9:22 a.m., Darien police sent out this message by email:
"The Darien Police Department is urging all residents to avoid travel. Numerous roads are flooded and impassable. We are in the process of removing occupants from flooded vehicles. Please avoid areas of small streams and rivers and do not drive if not necessary."
According to a CodeRed alert emailed at 9:02 a.km., the Flash Flood Warning from the weather service, in effect until 11:45 a.m. in areas including southern Fairfield County, said:
"Between 1 and 2 inches of rain have fallen. The expected rainfall rate is 1 to 1.5 inches in 1 hour. Additional rainfall amounts of 1 to 2 inches are possible in the warned area. Flash flooding is already occurring in some locations. […]
The rains could create "flash flooding of small creeks and streams, urban areas, highways, streets and underpasses as well as other poor drainage and low-lying areas."
The weather service recommends various precautions, mostly involving not driving through flooded areas:
"Turn around, don't drown when encountering flooded roads. Most flood deaths occur in vehicles. Excessive runoff from heavy rainfall will cause flooding of urban areas, highways, streets and underpasses as well as other drainage areas and low lying spots. Stay away or be swept away. River banks and culverts can become unstable and unsafe."
At 8:55 a.m., First Selectman Jayme Stevenson tweeted: "Stay home if possible. Travel is difficult with many roads closed. Driving thru flood waters is dangerous."
At 9:27 a.m., Metro-North reported delays of 30 to 40 minutes on the New Haven Line "due to a fallen tree near Port Chester as a result of weather-related issues. Please listen for announcements at your station."
On Thursday afternoon, Eversource sent out a news release saying the utility was "intensely focusing on preparations."
Electric Operations President Craig Hallstrom held a media briefing in Hartford today and shared the following with those in attendance:
"Throughout this week's destructive thunderstorms we've restored power to 80,000 customers and at the same time, we've also been watching multiple forecasts to track and prepare for Tropical Storm Elsa," said Craig Hallstron, Eversource electric operations president.
"We have hundreds of crews – including out-of-state crews that continue to arrive — ready to respond to any damage or outages this storm may cause. Since last week, we've been checking supplies and preparing. Now we're prepositioning crews and equipment based on the latest storm information available and we'll adjust our approach if necessary.
"Trees are the number one cause of outages and winds of 35-45 mph are expected with this storm and will bring down limbs and branches onto electric lines so we encourage our customers to be prepared for outages as well. We can't control the weather and amount of damage the system will take, but we're ready to respond as soon as we see an impact."
As of 9:47 a.m., 25 customers (0.31 percent of the total) were without power in Darien, according to the outage map section of the Eversource website.
On Thursday, Gov. Ned Lamont  has signed an order allowing utility restoration trucks to use Route 15 —  the Merritt Parkway and Wilbur Cross Parkway — "if they are needed in response to outages that may be caused by Tropical Storm Elsa" now hitting the state, the Governor's Office said Thursday.