Findings from the a survey of students from the 7th through 12th grades about substance abuse and mental health will be shared with parents at a public meeting  at 7 p.m., Wednesday, Oct. 20 in the Middlesex Middle School auditorium.
— an announcement, partly reworded, from The Community Fund of Darien
Among the findings from the survey, from the Student Assets Survey conducted last February for the Thriving Youth Task Force (TYTF) in partnership with the school district:
——"[G]etting into a good college and getting good grades are the primary sources of stress" across all grades surveyed, from 7th thrugh 12th, "even in middle school!" according to an Oct. 7 post on the TYTF Facebook timeline.
"Standardized testing and COVID/pandemic rules or losses were also sources of external pressure on our youth."
——"The TYTF/DPS Darien Student Survey found that for those who do use substances, the one most commonly used by Darien teens is alcohol," said an Oct. 4 TYTF post on Facebook.
"While use is still low in middle school (less than 3% of surveyed students in the past 30 days), alcohol use increases rapidly each year in high school (46% of 12th grade students in the past 30 days.)
"The good news — there are steps parents can take to make a difference in reducing teen substance use!" the Facebook post said.
The TYTF is Darien's local prevention coalition organized by the Community Fund of Darien.
Registration is requested for in-person attendance and required for Zoom. You can register here.
Mitch Dickey, a licensed psychologist with a PhD in psychology from Yale University, applied predictive analyses on the 2,027 student responses to determine the drivers of student-reported feelings of sadness, anxiety, loneliness and depression, as well as their substance use patterns.
The conclusions shared at the Oct. 20 presentation will offer parents and the community a clear understanding of these drivers and will highlight the actionable ways parents can intervene to make a difference.
"Our student survey data reveals that parents are our greatest underutilized asset to reduce teen substance use and influence their children's good mental health," noted Emily Larkin, Thriving Youth program director.
"The Thriving Youth Task Force will offer free events and programs throughout the year based on the survey findings to address these issues and how parents can best support their children," Larkin said.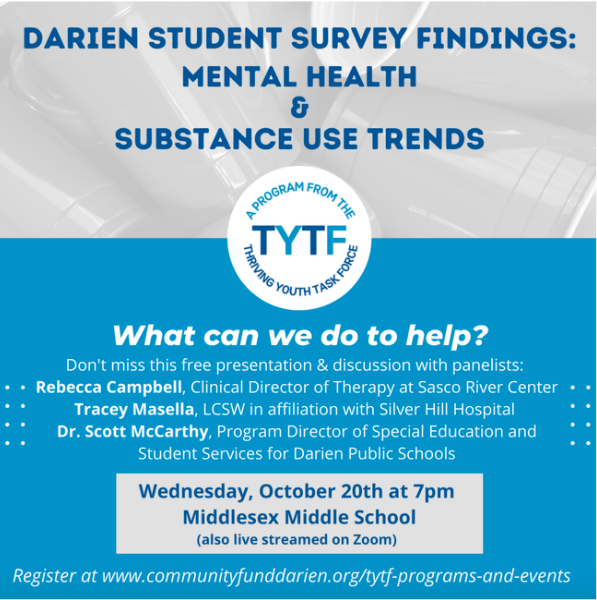 This year's combined survey included questions about peers, family, stress, mental health and drug and alcohol use to get a better understanding of different groups of students and the core, common and crucial issues they share.
Every three years since 2008, the TYTF has partnered with Darien Public Schools to anonymously survey Darien 7 through 12th grade students about their mental health and substance use trends and their knowledge and attitudes about risky behaviors.
The data collected from the most recent survey, administered last February, will be used to inform community and school efforts to promote the development of Darien youth into healthy, resilient adults and to reduce at-risk behaviors.
Georgette Harrison, a licensed professional counselor and director of community and clinical partnerships at Child Guidance Center of Southern Connecticut, and Dr. Mitch Dickey, a licensed psychologist and former Yale research scientist, will present the survey results.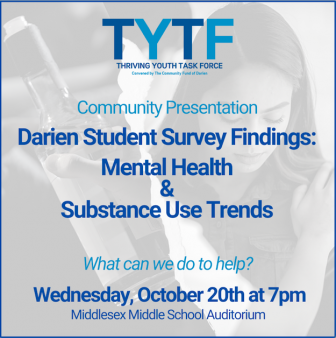 A discussion with panelists including Dr. Scott McCarthy, program director of special education and student services for Darien Public Schools and Tracey Masella, a licensed clinical social worker in affiliation with Silver Hill Hospital, will follow the presentation and discuss how the community can help support our teenagers.
"The administration of the student survey through the community partnership with the Thriving Youth Task Force serves as an important tool for our schools in understanding some of the social and emotional challenges facing our students," added Dr. Alan Addley, Darien superintendent of schools.
"These survey findings will help inform our continued efforts to provide a safe, healthy and positive environment and learning experiences for all of our students.," Addley said.
The survey was funded by a grant from Connecticut's Department of Mental Health and Addiction Services to address substance use prevention and mental health promotion in Darien.
About TYTF
The Thriving Youth Task Force is a volunteer coalition that convenes local community organizations to promote and empower positive youth development, with the goal of reducing teen substance use. The diverse group includes mental health, substance use and healthcare professionals as well as leaders from the schools, police, town government and clergy.
TYTF members have also provided insight and guidance for the nationally recognized "06820" campaign to examine the impact of alcohol on the teen brain and to encourage healthier attitudes and behaviors.  The TYTF, which is convened by The Community Fund of Darien, was created in 2008 and meets every other month during the school year.
For questions, survey results or more information, please contact Thriving Youth Program Director Emily Larkin at (203) 655-8775 or emily.larkin@CommunityFundDarien.org, or visit the Thriving Youth Task Force home page on the Community Fund of Darien's website.
About The Community Fund of Darien
The Community Fund of Darien's mission is to inspire people and mobilize resources to strengthen our community.  Its vision is for all community members to have the opportunity to reach their full potential as healthy, educated, and self-sufficient individuals.
TCF initiates solutions, builds collaborations, and implements and supports programs to strengthen youth, adults and families, for lasting and positive impact in Darien, Norwalk and Stamford.
Since 1951, TCF has distributed over $20 million to local nonprofits and community initiatives, impacting thousands of lives in our community.  For more information, please contact The Community Fund of Darien office at 203-655-8775 or visit the organization's website.