Rowayton native Ted Aldrich will give a presentation on his book The Partnership, a dual biography of General George C. Marshall (as army chief of staff) and Henry L. Stimson, as secretary of war) focusing on World War II and the five years just before it, when these men together ran the U.S. Army and Air Force.
— an announcement from Rowayton Library
In his Sept. 29 presentation, Aldrich will discuss why he believes their joint effort in creating, preparing, equipping, and then running the Army and Air Force represented the single greatest feat of management in the history of the world.
Incorporating nearly 100 photos into his presentation and weaving in all the major characters of the Second World War (e.g., Roosevelt, Churchill, Stalin, Eisenhower, MacArthur) as well as lessor known figures (Dill, McCloy, Lovett, Brooke, and Patterson).
Aldrich will also describe the remarkably contrasting paths to power that each man took prior to being paired by Franklin Roosevelt in July 1940.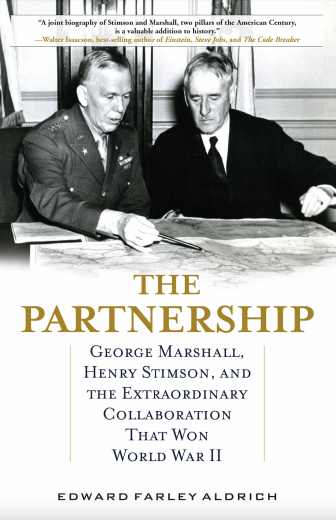 [Editor's note: MacArthur later worked in Rowayton for the Remington Rand Corporation, with offices at the Rockledge estate. At that time Remington Rand was building the UNIVAC computer in the building nearby that became Rowayton Library — where Aldrich will be giving his talk.]
Stimson emerged from Manhattan, Phillips of Andover, Yale (Skull and Bones), and Harvard Law School to spend his life moving between his top-shelf Wall Street law firm (Winthrop & Stimson) and successful public service stints (including U.S. attorney for the Southern District of New York in 1906, secretary of war in 1911, secretary of state in 1929, and secretary of war again in 1940).
By contrast, Marshall was an "army lifer" from Uniontown, Pennsylvania who spent 37 years moving between one assignment after another, impressing practically every individual he worked for or with.
The dazzling synergy released when these two men took adjoining offices in July 1940 (where the door between them was never closed) was, Aldrich will argue, one of the principal reasons the Allies won World War II.
If You're Going …
The talk starts at 7 p.m. at Rowayton Library, 33 Highland Ave., Rowayton.
There is no fee to attend, but if you're attending, you are asked to register here. Refreshments will be served.