Pulitzer Prize-winning journalist and author Elizabeth Kolbert and author, environmentalist, and activist Bill McKibben will discuss the future of the environment in an online event sponsored by Greenwich Library.
— an announcement from Greenwich Library
The discussion, from 7:30 to 8:30 p.m., Tuesday, April 20, will be moderated by journalist Mark Hertsgaard, executive director of Covering Climate Now, the conversation will be accessible for high school students and adults, and include actions we can all take to improve the future. An audience Q&A will follow.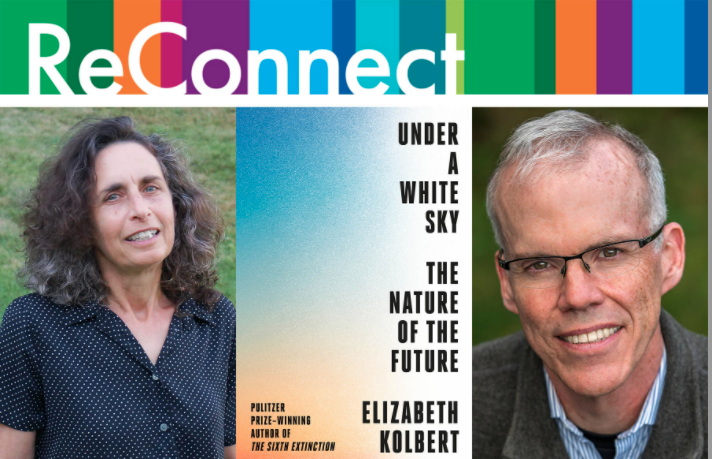 The conversation will center on Kolbert's new book, Under a White Sky: The Nature of the Future. So pervasive are human impacts on the planet that it's said we live in a new geological epoch: the Anthropocene. Kolbert takes a hard look at the new world we are creating.
Register Here for the join link and password.
Kolbert meets scientists who are trying to preserve the world's rarest fish, which lives in a single, tiny pool in the middle of the Mojave.
She visits a lava field in Iceland, where engineers are turning carbon emissions to stone; an aquarium in Australia, where researchers are trying to develop "super coral" that can survive on a hotter globe; and a lab at Harvard, where physicists are contemplating shooting tiny diamonds into the stratosphere in order to reflect sunlight back to space and cool the earth.
Elizabeth Kolbert is the author of Field Notes from a Catastrophe: Man, Nature and Climate Change, and The Sixth Extinction, for which she won the Pulitzer Prize in 2015.
Bill McKibben is the founder and senior adviser emeritus of 350.org. His 1989 book The End of Nature is regarded as the first book for a general audience about climate change and has appeared in 24 languages. His most recent book, Falter, was published in 2019.
Mark Hertsgaard is the executive director of Covering Climate Now, a global journalism initiative committed to more and better coverage of the climate story. He is also the environment correspondent for The Nation and author of books including HOT: Living Through the Next Fifty Years on Earth.