The Darien Arts Center is hoping to make your every wish come true this holiday season, while raising vital funding with its "Oh Christmas Spree!" raffle.
Those who buy the $20 raffle tickets by Dec. 15 will have the chance to win a treasure trove of gifts and services generously donated by over 40 local businesses, worth over $4,200.
— an announcement from Darien Arts Center
"Not even the Rockettes can promise something this spectacular!" said fundraising chair, Andrea Jackson.
How It Works
One lucky winner of the Oh Christmas Spree! raffle will receive all donated prizes (more than enough to fill Santa's sleigh).
Raffle tickets are $20 and available at the DAC website or from friendly DAC elves (and board members) located throughout town until noon on Dec. 15. Tickets may also be purchased by calling (203) 655-8683.
The winning ticket will be drawn prior to the 3 p.m. performance of Scenes from the Nutcracker on Dec. 15 in the DAC Weatherstone Studio.
The winner does not need to be present to win and will be notified immediately by phone and email.
Your Raffle Ticket Supports Programs Like These

Proceeds from ticket sales support the Darien Arts Center in its mission to provide visual and performing arts programming for all ages and special events for the community that have included:

—Scenes from the Nutcracker,

—Darien's Got Talent,

—Pic Darien Smartphone Photo Contest

—musical productions

—Improv Nights

—live music events

—dance events.
Gifts Come From These Businesses
The $4,200 prize is made up of generous gifts from:
ABW Designs, Andrew Stefanou Salon, Authentic Athlete, Barrett Bookstore, Baubles, Bistro Baldanza, Bodega Taco Bar, Browne & Co., Burgers, Shakes & Fries, Caffé Nero, Chocolate Works, Coco & Lala,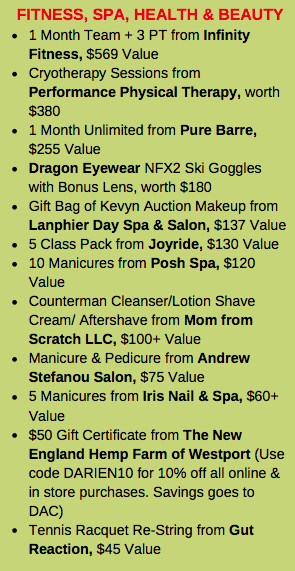 Darien Cheese & Fine Foods, Darien Butcher Shop, Darien Toy Box, Darien Diner, The Darien Playhouse, David Harvey Jewelers, Dragon Eyewear, Driftwood Diner, Everything is Rosey, Fisherman's Net, Four Forks,
The Gardener's Center and Florist, Gut Reaction, Heights Pizza, Helen Ainson, Infinity Fitness, Iris Nail & Spa, Joyride, Kirby Girl, Lanphier Day Spa, Louie's Restaurant, Mom from Scratch, LLC, Morley, The New England Hemp Farm of Westport,
Performance Physical Therapy, Posh Spa, Pure Barre, Reynolds Farm Nursery and Country Garden Center, Ring's End, Rory's Restaurant, Shake Shack, Tina Dragone and Wiggles and Giggles.
About the Darien Arts Center
The Darien Arts Center, located at 2 Renshaw Road, behind the Town Hall, is sponsored by Baywater Properties, DR Bank and Stamford Ford Lincoln.
Founded in 1975, the Darien Arts Center (DAC) is a non-profit organization dedicated to providing visual and performing arts programs and events for the community.
The DAC offers educational programs in Dance, Visual Arts, Music & Theatre, & special events & live theatre performances.
Private donations, grants, tuition fees &and ticket sales fund the DAC, which is located at 2 Renshaw Road, behind the Town Hall.
For further information, call (203) 655-8683 or visit DarienArts.org.