This year the Darien YMCA is offering two Fall sessions, and registration is ongoing for programs that help keep youth and adults keep active, stay healthy, and maintain higher spirits through the tough times brought on by the pandemic.
The Y's programs include ways to practice wellness, offerings for children and youths that help keep them fit, and classes tailored for people with special needs.
Session dates for Fall Session 1: Aug. 31 to Oct. 12 and for Fall Session 2: Oct. 13 to Nov. 23. Registration will continue on a rolling basis following posted registration dates.
Darien YMCA is all about strengthening our community and bringing families together in a healthy and safe environment. We are invested in your well being and are working hard to design programs that will keep you motivated during these difficult times.
We understand how important it is for you to keep your spirits high and live a happy and healthy lifestyle, so we are offering a bunch wellness classes like Pilates Apparatus and Outdoor Yoga.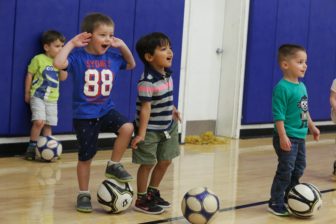 Gymnastics classes offered are an excellent way to keep children fit while having fun. Water lovers can now take swim lessons in a private or group setting.
Youth have access to fitness programs including Sports Performance and Conditioning and Youth Boxing.
Special needs classes offered include a variety of swimming, sports, fitness and enrichment classes for all ages.
Also available: lifeguard training and certification classes, CPR class offerings, and new Fall Sailing on Holly Pond (rain or shine) program.
For members who are training at home we will continue to have a variety of virtual classes to choose from.
If you have not already signed up there is still time. But remember the sooner the better — due to current scenario and our determination to keep you healthy we are following CDC safety guidelines and our classes are managed accordingly. So we suggest signing up for your desired classes in advance.
Stay healthy and happy with your own Darien Y!
For more information about our programs and a detailed Fall program brochure, please visit the Darien YMCA website, www.darien-ymca.org