Friday, July 1, 10:06 a.m.:
There were still about 50 parking passes available Thursday afternoon at Darien Town Hall. Today, Friday, is the last day to get them, and they allow you to park your car at Darien High School or on nearby streets (first-come, first served).
Otherwise you'll have to walk to the fireworks display or get dropped off and picked up. You can pay for the $30 parking passes with cash or a check at the First Selectman's Office in Town Hall. Get there before 4 p.m.
Original article, June 21:
If you're going to Darien's fireworks, scheduled for Saturday, July 2 (rain date is Sunday, July 3), you may want a parking pass, allowing you to park on the high school campus.
It's free to get in, but the parking passes cost $30. They tend to sell out early, so if you can, pick one up this week between 8:30 a.m. and 4 p.m. in Room 202 in Town Hall, up until Friday, July 1 (again — if they don't sell out earlier).
You can also park off campus (see the map below for off-street parking within a mile of Darien High School).
There's enough room for everybody to get a good spot to see the fireworks, which were shot from the far side of the "stadium" football field last year. The absolute best spot to see them from is in the stands against the high school building.
_______________
See also:
_______________
Gates open at 6:30 p.m.
The Darien Community band plays at 7:30 p.m.
Some things you don't want to forget to bring:
A picnic blanket and chairs
Bug spray
Sunscreen
Food — have a picnic there. But food will also be sold. You can listen to the band as you wait for dusk.
Your phone — Darienite.com will be tweeting, with pictures during the event and well before. If there's a new development you need to know about, we'll tweet it out to you. (Follow us on Twitter here.)
"We are excited to welcome back our local food vendors and the Darien Community Band," according to an announcement from the fireworks organizing committee. "For the first time we will be featuring our sensory-friendly viewing location!"
_____________
— See also: Get Your Kids Ready: Darien/Norwalk Push-n-Pull Parade Continues July 4 Tradition
_____________
Here are maps and other information from this year's fireworks flyer: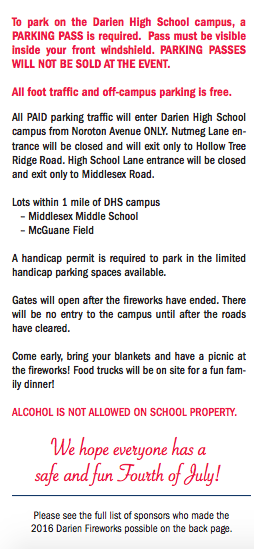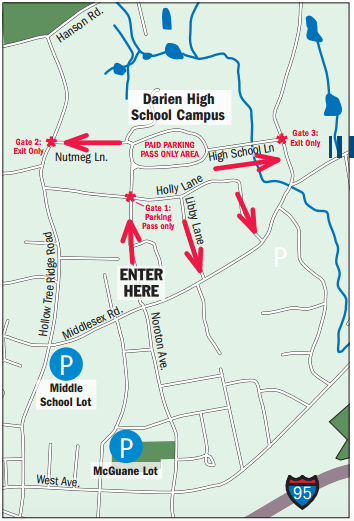 ,,,,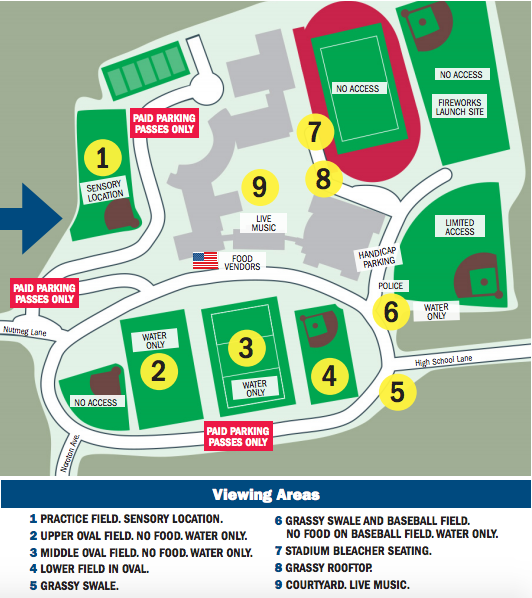 More from the organizing committee's announcement:
We would like to thank the Town of Darien, Darien Chamber of Commerce, Darien Sport Shop, PG Properties, Baywater Properties, Rings End, Maguire Cheswick Tuttle, Halstead Properties, First County Bank, Nielsen's, Dan Anderson/Merrill Lynch, Rand Insurance, The Darien Times, Dolcetti Inc, Orchard Tree Care and Growing Concern  for their continued generous sponsorship.

If you would like to volunteer with our fun committee please contact Rachel Hennemuth (203-912-8122), Susan Marks (203-219-7933) and/or Stacey Tié (508-641-2054).