A bicycle stunt team, dance troupes, floats, 11 award-winning bands and, of course, 14 colossal helium ballonsPlease join us at the 2o18 Stamford Downtown Parade Spectacular starting at 12 noon on Sunday, Nov. 18.
The festivities start the day before, from 3 to 6 p.m., Saturday, Nov. 17, at the Giant Balloon Inflation Party at the intersection of Hoyt and Summer Streets in Stamford where you can watch the drama of giant helium balloons coming to life. The party will have live music, clowns, cartoon characters and a meet-and-greet with Santa. 
The following is part of the announcement from the Stamford Downtown Special Services District: 
The parade promises to be the highlight of the holiday season starring Perfection on Wheels – Bicycle Stunt Team! The Master of Ceremonies for the parade will be Television Personality Alan Kalter.
The parade's 14 colossal helium balloons include Bob the Builder, Elmo, Mr. Potato Head, Octonauts, Paddington Bear, Peppa Pig, Scooby-Doo, Shrek and more!
[A map of the parade route is at the bottom of this article.]
Also part of the parade will be
dance troupes, including Locust Performing Arts,
floats, including one for the Teacher of the Year and,
11 award winning bands from Stamford and other parts of Connecticut, Westchester and Long Island.
Right after the parade, follow Santa and his entourage to the fabulous Tree Lighting and holiday music with the Stamford Downtown Children's Choir in Latham Park.
Last year, an estimated crowd of 200,000 attended the Parade Spectacular.
It's a great opportunity to spend time with family and friends and raise the curtain on a joyful and peaceful holiday season.
The Week After the Parade: Heights & Lights

Also, don't forget to come back to Stamford Downtown on Sunday, Dec. 2 to see Heights & Lights, Rappelling Santa and Tree Lighting, presented by Reckson, A Division of SL Green Realty Corp.
Join our Celebrity Rappelling Elf, Brian Cashman, Santa and friends as they rappel down 22 stories from the roof of the Landmark Building.
Yankee Magazine named the Parade as a "Well Worth the Drive" Destination in 2013.
The American Bus Association voted the Parade among the Top 100 Events in the Country for 2010, and Moffly Publications awarded it the "Most Uplifting Celebration" for 2006.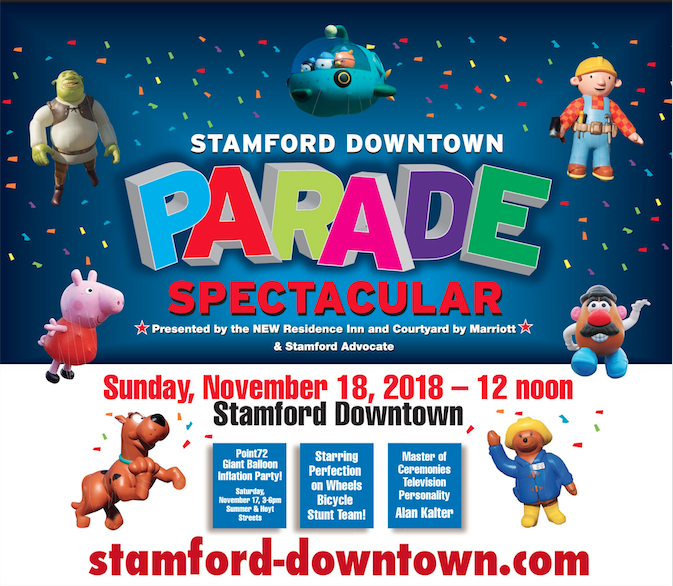 The Stamford Downtown Parade Spectacular, 25 years old this year, is a partnership among the City of Stamford, Stamford Public Schools and the Stamford Downtown Special Services District.
The parade's presenting sponsors are the new Residence Inn and Courtyard by Marriott and the Stamford Advocate/Hearst Connecticut Media Group, as well as dozens of community-minded corporations and organizations proudly sponsoring balloons, bands and floats.
Parade Route
Here are three overlapping images of the parade route and parking map (which you can see in PDF, here):