In the 35 years Police Chief Duane Lovello has been with the Darien Police Department, he says the biggest change in it is probably the police officers themselves: They're better educated, better trained and in better shape than when he was first hired, he said.
There's also been an "explosion in technology," Lovello said. A patrol car is "basically an office on wheels," Lovello said.
Technology has given criminals new ways of committing crimes but "there's also a vast amount of information we get […] that helps us solve crimes."
Lovello, who grew up in Stamford, had been a firefighter with the Glenbrook Fire Department when he thought he'd take the employment test for a police officer that Darien Police Department was giving.
"It was the only law enforcement test I ever took," he said. "I took the test and got hired. The department was expanding, and six other officers were hired on the same day.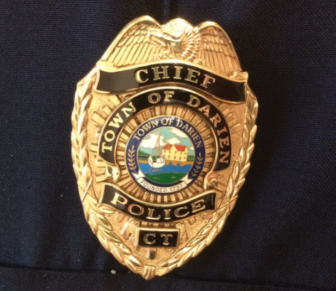 He's been police chief for the past 12 years and said he'd decided to retire now, he said, just because it seemed the right time and he wanted to give others a chance at the job.
When seen at Town Hall, public meetings, Police Commission meetings or elsewhere, Lovello often seems to be the calmest one in the room.
"I've always been impressed by people who weren't excited when everybody else was," he said. If you get too excited, "You kind of lose the ability to think straight."
It's also a good policy for a police chief: "I do think people watch how you act as a police chief. I don't think they would want a hot head or somebody who's mercurial as a police chief."
In January, well before Capt. Ray Osborne was picked by the Police Commission as Darien's next police chief, Lovello was asked what advice he'd have for whoever replaced him. He said:
"Bring your 'A game' every day. Come in the door with a smile on your face. Realize that at the end of the day, you're still in charge of a great police department that has the support of the community and the trust of the community. That's the most valuable part, I think. Lose that, and you're done."
Because the community supports the department, people talk to police when investigators or officers need information, and the department gets support for new initiatives, Lovello said.
With a relatively low rate of crime, he added, "The problems we have here that we consider big problems really aren't big problems at all."
"I look forward to the department doing good things with other people in charge."
___________
See also:
___________
Here's TV79's interview with Lovello:
Inside Town Hall – Police Chief Lovello Retires 2-17 from Darien TV79 on Vimeo.