The 47th Annual Darien Boy Scouts Giant Tag Sale is scheduled for Sunday, May 5 from 8 a.m. to 4 p.m at the Scout Cabin at 140 West Ave. and we need your donations!
— an announcement from the Andrew Shaw Memorial Trust
Start your Spring cleaning now and let our Scouts help you reduce, reuse, and recycle your clutter!
Wanted Items
We eagerly seek:
Art & antiques, collectibles, jewelry, instruments, foreign currency, indoor & outdoor furniture, lawnmowers, lawn & garden tools, hand & woodworking tools, snow blowers, electronics, stereo equipment, turntables, speakers, computers (Pentium IIIs & newer), flat screen TVs, cell phones, CDs, DVDs, records, housewares, lamps, linens, rugs, dishes & decorative items, sporting goods, baby/children's items, books, games & toys, bikes, trikes & scooters, holiday items, and knick-knacks.
Please help us by ensuring your donations are undamaged, clean, and in working order.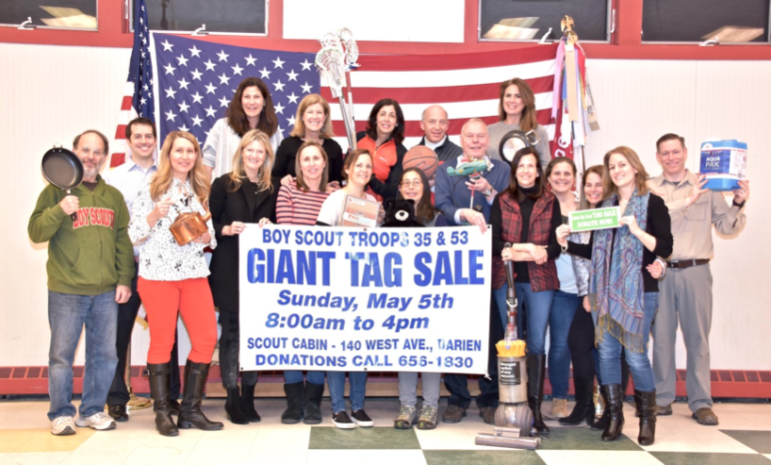 When to Drop Off Donations
Donations can be dropped off at the Scout Cabin at the following times:
—Sunday, 4/14 from 1 to 4 p.m.,
—Saturdays 4/20 & 4/27 from 9 a.m. to 3 p.m.,
—Wednesdays to Fridays 4/17-19 & 4/24-26 from 9 a.m. to 1 p.m.
Evening drop off
—Thursdays and Fridays 4/18, 4/19, 4/25, & 4/26 from 6 to 8 p.m.
—Drive right up and we will even unload your car for you!
Local pick-ups are available for items too large to fit in your car on
—Sunday, 4/14 from 1 to 4 p.m.,
—Saturdays 4/20 & 4/27 from 9 a.m. to 3 p.m.
Visit DarienScouts.org to schedule your pick-up. Schedule early — availability is limited!
Large and Heavy Items
We also seek car and boat donations and will have a Virtual Sale for items too large or heavy to bring on site such as large appliances, large/heavy furniture, pool/ping pong/air hockey tables, pianos/organs, large-scale exercise equipment, hot tubs & swing sets.
For VIRTUAL SALE and BOAT donations, contact David Yika at 203-559-8908 or yikadavid@yahoo.com.
For CAR & MOTORCYCLE donations, contact Jay Shutts at 203-655-8700 or johnpshutts@gmail.com.
Also …
For other questions, email darienscouts@gmail.com or call 203-656-1830.
Note, we cannot accept hazardous materials, trampolines, clothing, magazines, car seats, cribs, mattresses, sofa beds, armoires, tube TVs, tires over 7 years old, or building materials such as sinks, toilets, windows and doors.
All donations are tax deductible and benefit Scouting in Darien and the Andrew Shaw Memorial Scout Cabin. Your support is greatly appreciated!