"Rowayton Gardeners' Club is sponsoring a Breakfast Food Drive March 24 to 25 to benefit people helped by Person to Person. The club needs your help with donations of breakfast food items and/or supermarket gift certificates.

— an announcement from Rowayton Gardeners Club
Please join us in this effort to provide nourishing meals for individuals and families in need in lower Fairfield County. You can make a difference by donating breakfast food items from the list on our flyer or by purchasing a gift card for groceries and donating it.
If You're Donating …
Friday March 24 from 3 to 6 p.m. and Saturday March 25, from 10 a.m. to 1 p.m.  Drop off will be at the "Underground," in the basement level of the Rowayton Community Center, 33 Highland Ave., Rowayton.
Breakfast items include oatmeal, cereal, granola or breakfast bars, shelf stable milk, peanut butter, jam, apples, oranges, grapefruit, bananas (unripened), waffle and pancake mixes, breakfast syrup and gift cards to ShopRite or Stop & Shop.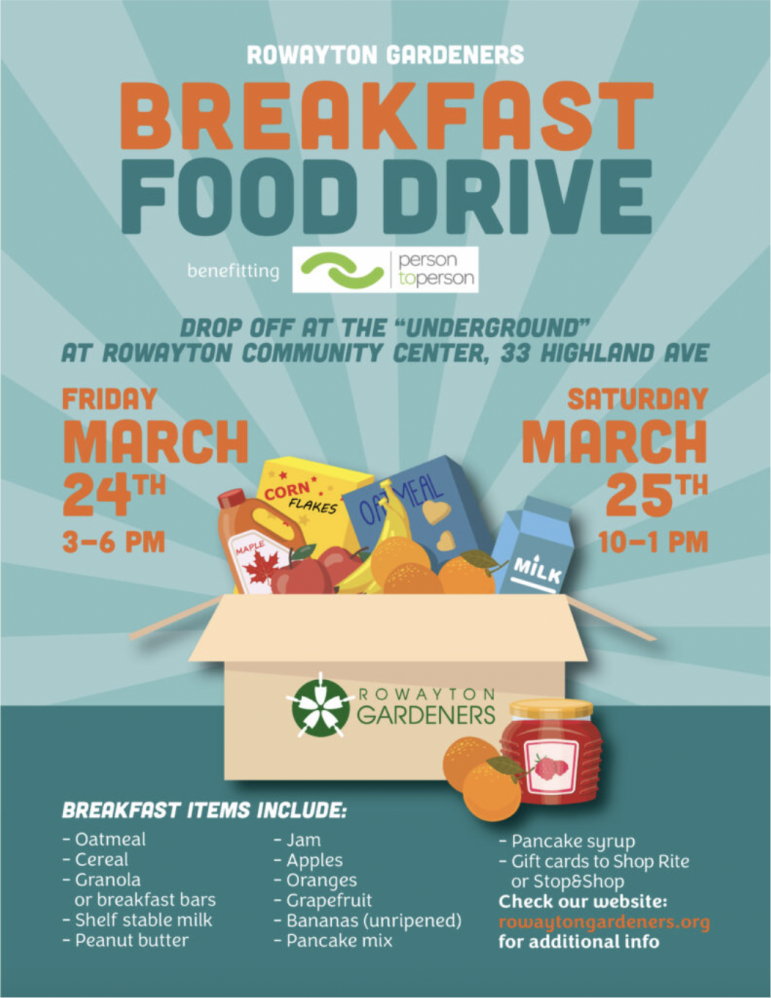 About Person to Person and Rowayton Gardeners Club
Person to Person provides individuals and families in lower Fairfield County with assistance for basic needs to overcome daily challenges and gain access to resources that improve their lives.
P2P reaches 28,000 individuals each year with vital services including Food Assistance. Food insecurity is a growing problem in our county and providing healthy, nutritious food is a cornerstone of Person to Person's mission.
Since the mid-1950's, the Rowayton Gardeners Club has worked to enhance  knowledge and stimulate an interest in gardening through its garden education programs for adults, children and the general community.
The Club cares for and maintains eight community gardens, provides outreach programs through Garden Therapy at Hilltop Homes and Grassroots Tennis and has spearheaded and participated in environmental awareness projects, working with other civic organizations in Norwalk, to keep our community green and growing for generations to come.