Darien Pride, a local LGBTQ+ advocacy group, is excited to announce its upcoming fundraiser, Loud and Proud Karaoke.
Loud and Proud Karaoke aims to be a fun-filled evening of live music and entertainment, featuring Tony Bellomy on the piano, playing any selection from a huge list of popular songs, classics, and show tunes. He can also accompany anyone who brings their own sheet music.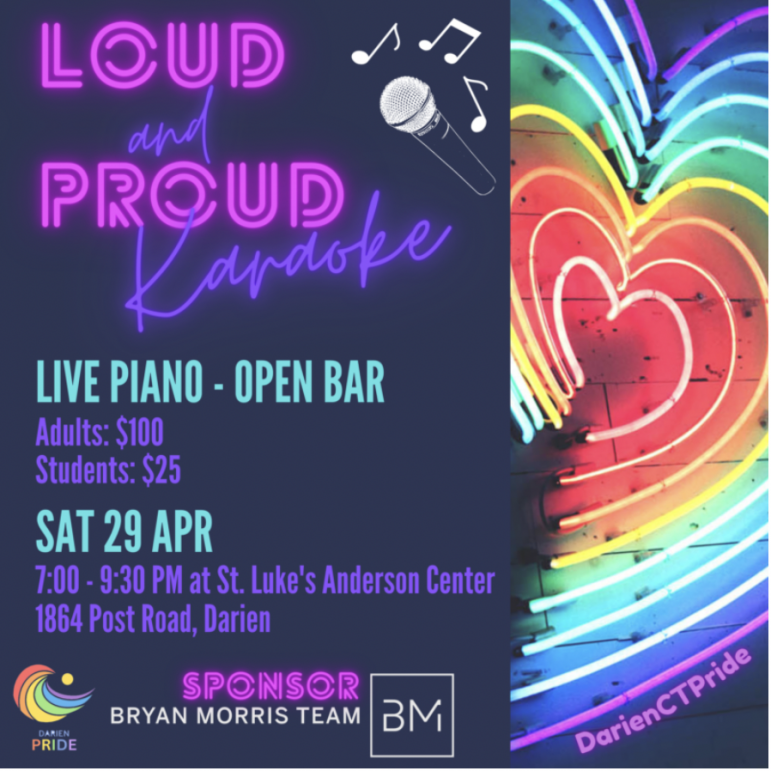 Attendees will have the opportunity to showcase their vocal talents and sing their hearts out, all while supporting a great cause.
The evening will feature an open bar serving a variety of beverages, including beer, wine, and soft drinks, as well as light snacks to keep energy levels up throughout the evening.
"We're thrilled to be hosting this event to show our local queer youth that, despite flag bans and attempts at book-banning by a small minority, they belong in Darien," said Dan Guller, chair of the Darien Pride committee.
This evening of celebration is open to everyone, regardless of age, gender, or sexual orientation. "We invite everyone to come out and show their support by singing, dancing, and having a great time," Guller said.
For more information about the event or to purchase tickets, visit Darien Pride's website.
If You're Going …
The event takes place Saturday, April 29, 2023, from 7 to 9:30 p.m. at the Anderson Center at St. Luke's Church.
Tickets are available for $100 for adults and $25 for students, with all proceeds going towards supporting Darien Pride's mission to promote equality and acceptance for the LGBTQ+ community in Darien.