Today is the deadline to get in nominations for the YWCA Darien/Norwalk Women of Distinction awards. If you know women in the Darien or Norwalk who give to the community, epitomizing community leadership, please consider nominating them.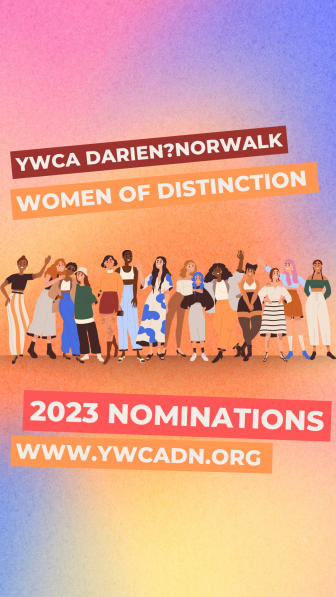 — an announcement from YWCA Darien/Norwalk
Nomination forms are online, here.
After nominations are received, the Women of Distinction Nominations Committee will review the submissions and select the honorees. The women chosen will be honored at the awards event this spring. The YWCA Darien/Norwalk encourages you to nominate women who are leaders, role models, agents for change, mentors and/or an inspiration to others.
YWCA Darien/Norwalk is a non-profit organization located in Darien, that supports women by creating opportunities for growth, leadership and empowerment and by building inclusive communities.
The national mission translates locally into a vision of creating opportunities for connection, growth, leadership and empowerment for women and families at every age and stage of their lives.
For more information, please visit the YWCA Darien/Norwalk website or e-mail aidan.welsh@ywcadn.org.