Halloween in Darien means a haunted house by Darien EMS-Post 53, a "Trunk or Treat" event at the Noroton Presbyterian Church parking lot and the annual Hoot & Howl at Darien Nature Center, all before the frightening night itself.
And there are more events for families nearby. Most events take place on Sunday, Oct. 28. Pick and choose; don't do the same thing every year, unless your kids really want to.
— See also: Halloween Tips for Keeping Kids Safe
Here's what's happening, with details, in chronological order:
Halloween Events at Stepping Stones Museum, Oct 23 to 31
During Halloween Tricks and Treat Week from Tuesday, Oct. 23 to Wednesday, Oct. 31, enjoy daily costume catwalks, creature features, face painting, hat sorting, magic tricks, make-believe monsters, mask making, pumpkin decorating, silly sensory science lab experiments and BooZoo's Great Pumpkin parades.
Highlights of Tricks and Treats Week include Frankenstein Friday on Oct. 26 to celebrate the 200th anniversary of the publishing of Mary Shelley's Frankenstein,  Monster Mash on Saturday, Oct. 27 from 4 to 8 p.m. and Make Your Own Fun Days from Oct. 30 to 31.
Downtown Darien Halloween Parade, Oct 26
The Darien Community Association's 24th annual Mom's Morning In Halloween Parade, starts at 10 a.m., Friday, Oct. 26.
Parents, caregivers and grandparents can bring their costumed little characters for trick or treating at the doors of local merchants in Darien.
Parade-goers should meet at the parking lot next to the Darien Fire Station opposite Post Corner Pizza at 10 a.m. The parade then wanders down to Tilley Pond for snacks and a special show with our favorite magician and juggler — "Amazing Andy." Bring your goody bag — there will be treats for all!
This special event is only $5 per child, collected at Tilley Pond.
Rowayton Monster Dash 5K and In-Costume Fun Run/Walk, Oct 28
Rowayton Library's 4th Annual Halloween Fun Run and Family Event takes place Sunday, Oct. 28, 2018 at 9 a.m. at the Rowayton Community Center, 33 Highland Ave.
Runners come prepared for a chip-timed 5K race through the scenic streets of the beautiful seaport community of Rowayton.
Families come out in COSTUME for a 1K Family Fun Run/Walk.
Lots of prizes to be awarded to: Fastest male and female runners Fastest boy and girl runners Best male costume Best female costume.
Adult tickets cost $40; kids tickets, ages 7-15 cost $20. Children ages 6 and under walk/run for free. Event registration begins at 8 a.m
Trick or Treat for Costumed Kids at Grand Central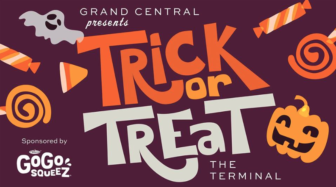 On Sunday, Oct. 28, from 11 a.m. to 2 p.m., come in costume to trick or treat at the shops and restaurants, decorate pumpkins, take photos, and:
• Trick-or-treat totes* for kids upon arrival
• Face painting
• GoGo SqueeZ samples*, and more!
*While supplies last
(We didn't see a cost for this event in the announcement.)
Darien EMS-Post 53 Haunted House, Oct 28
Get your Halloween Costumes ready! The Darien EMS-Post 53 Annual Haunted House is Oct. 28 from 2 to 4 p.m.
A fun-filled afternoon appropriate for children of all ages. Have a "scary" tour of the Haunted House along with face painting, games and treats.
Ambulance tours and Hands for Life (CPR/AED) training. Come on out and support Post 53! Darien EMS-Post 53 Headquarters, One Ledge Road, Darien.
Admission is free.
Trunk or Treat in Noroton, Oct 28
Bring your neighbors, friends, family and a big bag of candy (but nothing scary please) to this family-friendly event from 3 to 5 p.m. on Sunday, Oct. 28.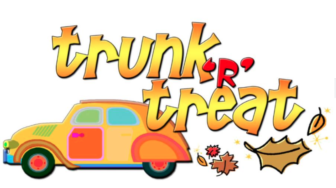 Have treats in your trunk — and decorate it, if you'd like, and head to the Noroton Presbyterian Church's lower parking lot.
This year there are new activities and a free raffle.
If it rains (or snows, or hails, or if anything falls from the sky), the event will take place indoors, at Horton Hall.
You and your kids can avoid crossing streets, long dark driveways and still have lots of fun!
Again, please keep the costumes and decorations appropriate and not scary.
(We don't see any cost to the event, other than bringing candy to hand out to kids.)
Hoot and Howl, Darien nature Center, Oct 28
Darien Nature Center's 16th annual Halloween Hoot and Howl event, a "not-too-spooky Halloween party" will feature outdoor play, magic shows, children's campfire stories, hay rides, crafts, refreshments, face painting, games with prizes, s'mores, animal encounters, a fall hike and more! Costumes are voluntary.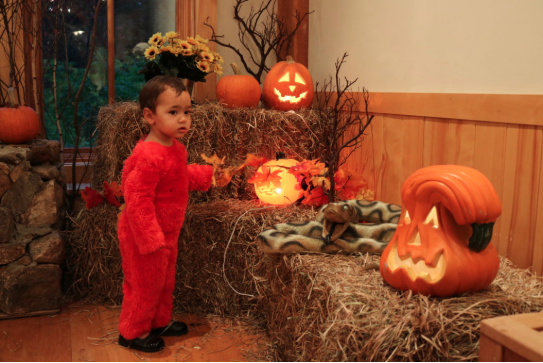 There's an early opening at 3:30 p.m. for special needs families.
Cost: $5 per person, kids under 1 year old get in free
Maritime Aquarium/AquaScarium, Oct 27-28
Kids in costume can get free admission to the Maritime Aquarium at Norwalk on the weekend before Halloween, when the popular family attraction transforms into the AquaScarium.
Children age 3 to 12 who come to the AquaScarium in costume on Sat., Oct. 27 and Sun., Oct. 28 will get free admission (a $17.95 value) with each paying adult. Adult admission is $24.95. (The offer requires one paying adult for each free costumed child.)
Try out your kids' costumes, show off your kids' costumes, and even earn some savings through your kids' costumes.
The AquaScarium itself will be ghoulishly decorated for Halloween, with jack-o'-lanterns, seasonal accessories, and staff dressed in costume. Sigworth stressed that the celebration is an AquaScarium in name only, with no frightening aspects for young children.
Also, during the AquaScarium weekend (and every weekend in October), members of the volunteer dive team will carve pumpkins while submerged among the large sharks in the 110,000-gallon "Ocean Beyond the Sound" exhibit.
Spooky Stories to Tell in the Dark, Oct 29
Are you afraid of the dark? Join Darien librarians for a evening of bone-chilling stories at Darien Historical Society!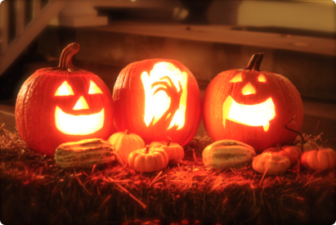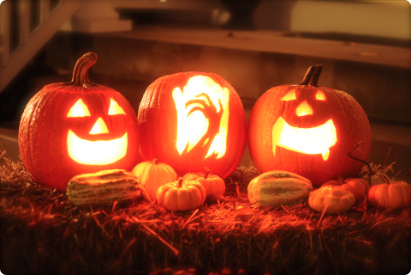 We will share the stories on the front lawn of the Bates-Scofield House Museum from 6 to 6:30 p.m., Monday, Oct. 29, so please dress warmly. Don't forget to bring a blanket and flashlight. This evening's stories will increase in spookiness as it gets darker.
Light refreshments will be served.
The Darien Library is proud to co-sponsor this event with the Darien Historical Society.
The event is geared toward families with children ages 7 and up.
— an announcement from Darien Library
Halloween Storytime, Oct. 31
Join the children's library for a special Halloween-themed Toddler Tales from 9:30 to 10 a.m. in the Community Room at Darien Library. Come in costume and trick-or-treat in the library afterwards!
For walking kids up to 36 months old. No registration necessary.