'The Big Lebowski' Annual Summer Screening With Costume Contest, Dude
Wednesday,Jun, 27, 2018 @ 8:30 pm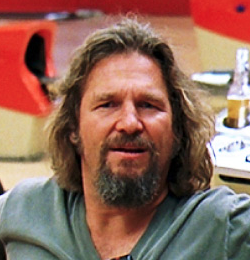 Dude — the Avon Theatre's annual showing of "The Big Lebowski" comes with a costume contest with prizes — patrons are invited to wear their best Lebowski-themed attire!
The plot of this Raymond Chandler-esque comedy crime caper from the Coen Brothers pivots around a case of mistaken identity complicated by extortion, double-crosses, deception, embezzlement, sex, pot, and White Russians.
— an announcement from Avon Theatre
In 1991, unemployed '60s refugee Jeff "The Dude" Lebowski (Jeff Bridges) grooves into his laid-back Los Angeles lifestyle. One of the laziest men in L.A., he enjoys hanging with his bowling buddies, pompous security-store owner Walter Sobchak (John Goodman) and mild-mannered ex-surfer Donny (Steve Buscemi).
However, the Dude's life takes an alternate route the afternoon two goons break into his threadbare Venice, California, bungalow, rough him up and urinate on his living room rug.
All because Jackie Treehorn is owed money by the wife of a certain Jeff Lebowski. But, the goons grabbed the wrong Jeff Lebowski. With the right info, they would have invaded the home of philanthropic Pasadena millionaire Jeffrey Lebowski.
The Dude looks up his wealthy namesake, manages to get a replacement for his rug, and meets the millionaire's sexy young wife Bunny (Tara Reid). Later, Jeffrey Lebowski calls in the Dude to deliver a $1 million ransom for the return of his kidnapped wife.
Fine — except that Walter intrudes and botches the ransom drop. As events unravel, the Dude gets caught up in the schemes of Lebowski's daughter, erotic artist Maude (Julianne Moore), encounters both cops and bad guys, and drifts through an elaborate bowling fantasy sequence. ~ Bhob Stewart, Rovi
DIRECTED BY: Joel Coen, Ethan Coen
STARRING: Jeff Bridges, John Goodman, Steven Buscemi, Julianne Moore
RATING: R
RUNNING TIME: 118 minutes